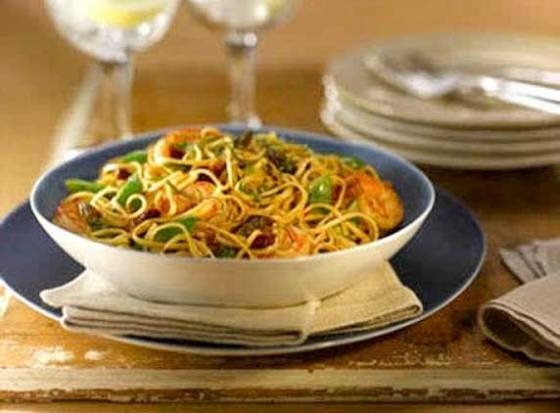 Ingredients
1 package Pasta
1-1/2 teaspoon Italian seasoning mix
3 teaspoons olive oil, divided
1/2 pound medium shrimp, peeled, deveined and rinsed
3/4 cup dry white wine, reduced-sodium chicken broth or vegetable broth
1/4 cup chopped sun-dried tomatoes (not oil packed)
1-1/2 cups sugar snap peas
1 tablespoon snipped fresh basil or 1 teaspoon dried basil
Directions
Prepare the pasta according to package directions, drain and then drizzle with 1-1/2 tablespoons of the olive oil. Gently toss, and then sprinkle with the Italian herbs and toss once more.
In the meantime, heat 1-1/2 tablespoons of oil in a large sauté pan over medium heat. When the oil becomes hot, but not smoking, add the shrimp and sauté for 4 minutes, stirring occasionally. Add shrimp to the pot with the pasta.
In the same sauté pan, pour in the wine and add the tomatoes. Set the mixture over medium-high heat and bring to a boil. Add the peas and cook for an additional 3 minutes.
Pour the wine sauce over the fresh pasta, toss and serve garnished with fresh snipped basil.