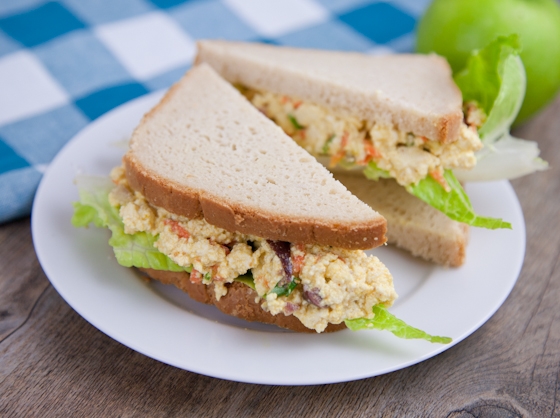 Although it may seem like a healthy alternative to a bologna sandwich, one cup of traditional egg salad contains over 700 calories and 105% of your daily allowance of total fat intake. However, by substituting saturated fat and cholesterol-dense ingredients like eggs and mayonnaise with healthier tofu and soy-based ingredients, you are able to reduce the the caloric content of the salad by over 60%. Although this recipe has several key substitutions, it also includes many of the familiar flavors of egg salad that make this a satisfying dish.
Drain the tofu from its liquid and place it into a bowl.
Squeeze the tofu with your fingers to smash it into irregular size chunks.
Add the remaining ingredients.
Gently stir the ingredients.
Cover the salad with plastic wrap and refrigerate for 30 minutes to blend the flavors.
Serve over salad or in a sandwich.