'Peak of Coronavirus deaths likely will be in 2 weeks' : President Donald Trump
March 30, 2020 12:16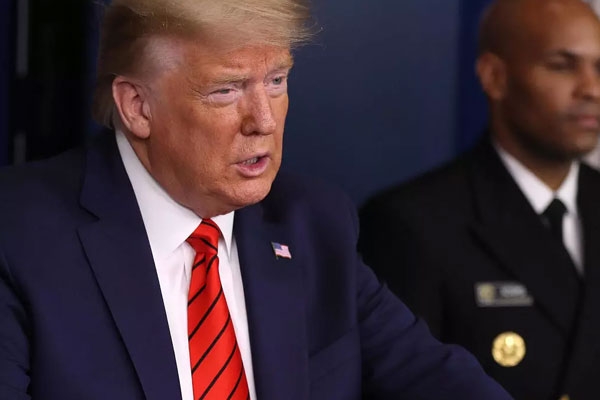 (Image source from: france24.com)
The coronavirus pandemic has taken the world by a storm, the number of confirmed cases in the United States at its peak and the most across the world.
In a televised briefing on Sunday, President Trump stated saying that the peak deaths in the US is likely going to happen in the coming two weeks. This is the reason why the guidelines of "social distancing" in the state have been increased until April 30 for better measures.
Trump stated saying, "Easter should be the peak number." The same is on April 12, 2020.
President Trump, in the televised briefing, further stated that according to the modelling, it is believed that the peak in the death rate is likely going to happen in the coming two weeks.
Following reaching the peak, the rate should be coming down substantially.
Addressing the head of the infectious disease department in the National Institute of Health, Anthony Fauci, Trump further stated that Fauci believes that the death rate due to the coronavirus pandemic is likely going to range between 100,000 to 200,000 in the United States.
While Trump does empathize with the situation and said that the numbers are pretty bad, he also stated that the same could have been worse if the lockdown wasn't imposed.
He further gave the numbers saying, "Potentially 2.2 million people if we did nothing, if we didn't do the distancing. If we didn't do all the things we're doing."
Trump also extended the social distancing guidelines to further slow down the spread of the pandemic in the country.
The John Hopkins stat counter also recorded a highest of 518 coronavirus deaths in the last 24 hours, a lot more than the prior day.
Trump does believe that the country could take a time till June 1 for complete recovery which he priorly said to be mid-April. He appealed to the citizens to religiously follow all the imposed restrictions and ensure to practice all the precautions at home.
Addressing his idea of opening up the economy quicker, President Trump said that their coronavirus taskforce headed by Anthony Fauci didn't like the idea and opposed against it.
President Trump further said that they will be making an important announcement concerning the government's plans and strategies ahead.
Further emphasising better economic relief for the citizens across the United States, President Trump stated saying, "I'm prepared to do whatever's necessary to number one, save lives and number two, bring our economy back strong, just like it was before. I think our economy has a chance to be just as good and even better than it was before."
The total number of confirmed cases of the coronavirus in the United States is at 142,735 with 2, 488 deaths reported so far.
By Somapika Dutta