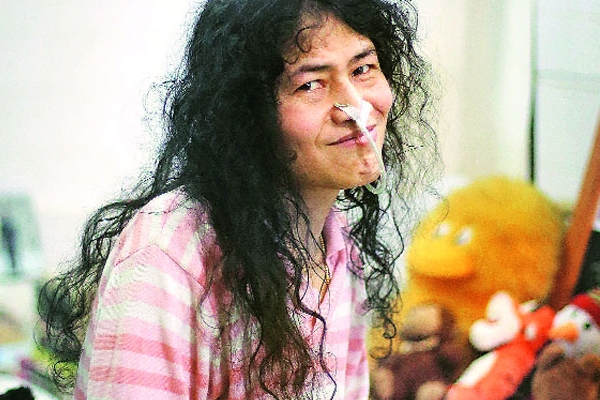 Manipur's 'Iron Lady' Irom Chanu Sharmila is all set to end her 16 years long fast today. She was  demanding repeal of the Armed Forces (Special Powers) Act from Manipur.
Her brother Irom Singhajit, said that, 44-year-old iconic rights activist, who was forcibly fed through a nasal tube since 2000 to keep her alive at a prison-turned-hospital, will break her fast at a local court in Imphal.
"She will be produced before a judicial magistrate today and the court will release her from judicial custody after she breaks her fast as she had announced a fortnight ago," he said.
Sharmila's 84-year-old mother, Irom Sakhi, is a little downcast and said that, "I have waited for the last 16 years. Every day, I prayed that Sharmila be successful in her mission. I had told her that the day AFSPA is repealed from Manipur, I will feed her the first morsel of food with my own hands. That is all I have to say."
Local activist Kshetrimayum Onil, who has been associated with Sharmila for a long time, said they tried many times but failed to meet her, but "The government rules say that to meet her we have to apply at least one month before. We tried but failed to set up a meeting," he said.
The PTI reported, Dr Laishram Deben, director of Jawaharlal Nehru Institute of Medical Sciences Hospital, said that, "Her condition is okay as she has been getting all nutrients. She can walk also."
Terrorist attack in Assam, 14 killed, 15 injured
Nandini