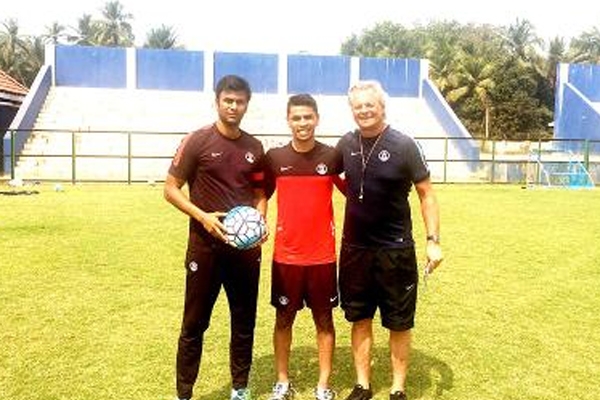 India is set ready to host its first ever FIFA tournament, as it is going to host Under-17 World Cup in October this year. The home squad has been boosted with the inclusion of Namit Deshpande, who is a US-based NRI scouted by the 'All India Football Federation' (AIFA) through its overseas scouting portal.
Last year, AIFA launched a website in collaboration with the Sports Authority of India, which saw young Non-Resident-Indian footballers with valid Indian passports, uploading their freestyle videos in an attempt to catch the selectors' eye. The website received about 50 applications, but it was Deshpande, son of New Jersey based architects, originally from Mumbai, who impressed the selectors most.
Deshpande first travelled to Brazil, where the Indian squad, under coach Nicolai Adam, was on an exposure trip. The coach was flattered by the youngster, who plays in the central defense. However, Adam was sacked following allegations of physical and verbal abuse by his players.
When Luis de Matos of Portugal took charge of the team, Deshpande reached the Goa camp and after flaunting his skills over a four day period, he proved that he was as good, if not better, than the boys in training.
Since 2006 Deshpande is living with his family in the United States. Before he joins the rest of the teams travel to Portugal next month, he has to handle his school assignments.
The squad is currently touring Europe and is scheduled to play a series of friendly matches in Portugal, Spain, Italy and Hungary before returning back to India for the final leg of preparations. The U-17 World Cup will be held from October 6 to 28.
Former Indian striker Abhishek Yadav along with other sports disciplines are monitoring the overseas scouting project, they receive videos from players on an everyday basis and feel that more players could follow Deshpande to break into the squad for the U-17 World Cup at home
"Just yesterday, I received two profiles, but they are from a different age group. Deshpande was the most impressive of all the players I have seen," said Yadav."He is a central defender and a very good one at that. When he came to Goa, the coach was impressed with his talent and work ethic."
Indian-origin sparks interest in Real Madrid
AMandeep