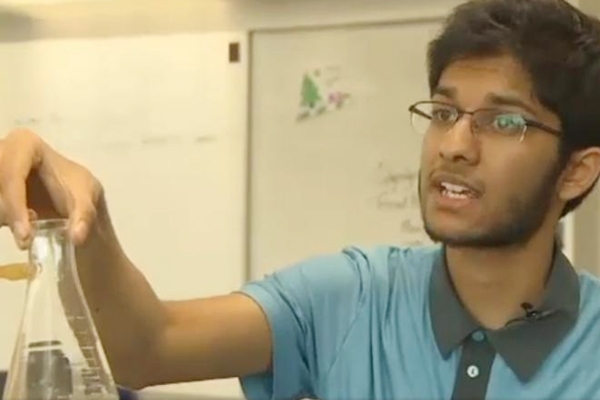 Chaitanya Karamchedu an Indian-American boy from Portland, Oregon found a cheap and easy way to convert clean water from salt water.
Karamchedu is studying in Jesuit High School/Portland State University, he used a desalination technique based on hydrogel and used saponified starch grafted polyacrylamide's hydrophilic properties to harvest fresh water. The following process does not require thermal or electrical energy filtered water has comparable conductivity of 306.32 µS/cm which is comparable to the conductivity of distilled water at 200 µS/cm.
The revolutionary process has negligible pre-treatment and post-treatment cost makes it available on a small scale, especially for the area which is prone to a lack of fresh water.
While testing it was found that the water had a total dissolved solids concentration of 513 mg/L which is within the standards of World Health Organisation (WHO) at less than 600 mg/L, compared to 35,000 mg/L for sea water.
According to the details obtained from analysis the water contained 25.8 mg/L of sodium and 36 mg/L of chloride. The relevant EPA secondary concentration levels (aesthetic standards) for sodium is 20 mg/L and for chloride is 250 mg/L. The process yielded over 70% of fresh water and also produced a commercially useful fertilizer, CaSO4, as a byproduct.
The sea water contains 19,000 mg/L chloride and 10,500 mg/L sodium
Karamchedu stated that one in every eight people does not have access to clean water, it is an issue which is very important to be addressed.
He said the best access to water was from the sea, the planet is covered with 70 percent of the ocean, scientist have looked at desalination, but it is too much costly to be implemented on a large scale and was also not accessible to all the places.
Karamchedu's biology teacher Dr. Lara Shamieh said People are concentrated on that 10 percent of water, which is bonded with salt and no one looks at the 90 percent that is free.
Karamchedu just looked at the problem and said why to focus on the 10 percent if only 10 percent is bonded and 90 percent is free, let's ignore it and focus on 90.
Karamchedu work does not end with cleaning salt water, he also has interests in other fields too such as in curing cancer.
Karamchedu is currently working with his teachers on the same subject.
Suppermassive black hole 660 million times larger than Sun
AMandeep