(Image source from: Florida Trend)
An Indian American doctor couple, Kiran Patel and Pallavi Patel, has teamed up with the Nova Southeastern University (NSU) to advance healthcare in Florida and internationally to underserved communities in India and Africa  with an initial investment of $200 million.  

Zambia-born India-educated cardiologist Kiran Patel and his India-born pediatrician wife Pallavi Patel have already acquired 50 hectares of land near Bharuch, Gujarat, the western region of India, to set up the medical college effectively.

The Patels are planning to visit India in October to discuss their project with Prime Minister Narendra Modi that is said to transform healthcare in India with technological advancements and efficiently trained doctors.
                       (Image source from: New Indian Express)

In the meantime, the NSU on Saturday opened a brand new campus in Clearwater, near Tampa. Eventually, the couple is working towards setting up three medical colleges in rural areas, wherein students will be trained and two of these medical colleges are said to offer Indian degrees with one offering a United States degree.

Read: Why Indians with Foreign MBBS Fail to Get Licensed in Home Country

Kiran Patel said that approvals were being sought for the use of acquired agricultural land for non-agricultural grounds followed by a necessary approval from the Medical Council of India to set up a college.

Asked if recent changes in the law to improve access to quality and affordable medical education in India would be helpful to his plans, he said that "only time will tell".
My hope is the new organization will be expeditious in their decisions and would not put unnecessary roadblocks in the path.
Lectures will be directed from Tampa to classes at the planned college in India with live interaction with professors, he added.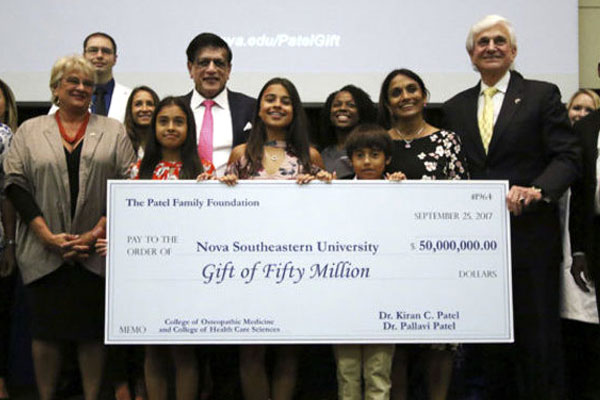 (Image source from: The Universal News Network)

Later, American professors would be positioned in India and Indian professors brought will be brought to the U.S. to sort of train the trainers to academically produce students of the same caliber as those graduating in the U.S.

Subsequently, the college will be accredited with American bodies to start residency in India. Indian students coming to the U.S. will be aware of how a world-class institution works and Indian doctors will get an insight into modern healthcare.

Noting that students, residents, and post-graduates will start providing services when the college opens, Kiran Patel said the move would solve the crisis of paucity of healthcare in India.

Once the India project gets going, Kiran Patel plans to extend his operations in Africa and achieve his desire to start with Zambia, the land of his birth, he said.

Currently, there are two Nova institutions in the U.S. named after the Patels producing 625 graduates whereas India providing another 300.

According to Kiran Patel, the ultimate goal of the Indian American doctor duo is to produce doctors all around the world to come forward and help people in a potentially 'borderless' world.

By Sowmya Sangam