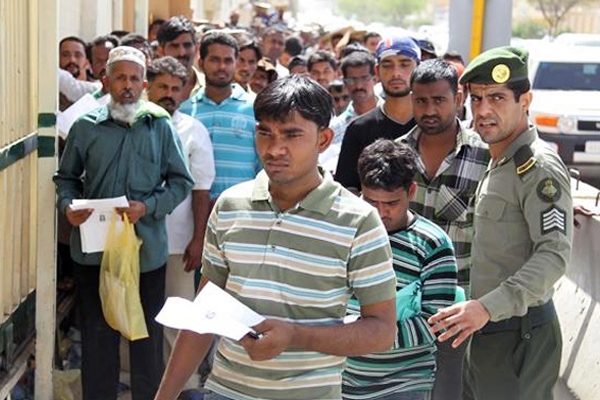 The government is planning to evacuate around 10,000 jobless Indian nationals in Saudi Arabia facing a "food crisis" in the Kingdom, India's foreign minister says.
The Hindu reported, New Delhi is "arranging exit visas for jobless workers" and Minister of State for External Affairs Gen (Retired) V.K. Singh is scheduled to travel to Saudi Arabia to "bring back" the Indians in the next few days.
Foreign minister Sushma Swaraj said the condition in Saudi Arabia was worse and the government had asked the consulate in Riyadh to distribute free ration to the unemployed Indians.
"I assure you that no Indian worker rendered unemployed in Saudi Arabia will go without food," she said.
The consulate in association with the Indian community in Jeddah distributed over 15,000kg of food to their distressed countrymen over the past three days.
MJ Akbar, the second junior minister in the external affairs ministry, tweeted that, "Thankful that Saudi authorities have assured @IndianEmbRiyadh Exit visas of our Indian workers will be processed Wage claims will be registered."
"Necessary assistance continues to be provided to our distressed citizens with the heartening support of Indian community in Saudi Arabia," Akbar tweeted.
On the other hand, in the past, Human Rights Watch has criticized Saudi Arabia for "rampant employer abuses of migrant workers, including forcing them to work against their will or on exploitative terms".
"A visa system that ties workers' residency to employment "grants employers excessive power over workers and facilitates abuse", the group said.
Also Read: No reduction in sending Indian workers to Saudi Arabia
Nandini