(Image source from: Catch News)
The most anticipated episode of Man vs Wild featuring Prime Minister of India Narendra Modi and Bear Grylls will be aired on Discovery Channel today (August 12) at 9 p.m.

The episode will be telecasted in more than 180 countries across the world on Discovery network of channels, which means people across 180 countries will get to see the little-known side of the one of the most admired Prime Ministers.

"People across 180 countries will get to see the unknown side of PM Narendra Modi as he ventures into Indian wilderness to create awareness about animal conservation & environmental change. Catch Man Vs Wild with PM Modi @DiscoveryIN on August 12 @ 9 pm", Grylls had tweeted.

The special episode will focus attention on the issues related to environmental change.  
                       (Image source from: Hindustan Times)

According to a statement from the channel, the special episode, featuring adventurer and survivalist Bear Grylls which is shot in India's Jim Corbett National Park, will be a "frank and freewheeling journey" which will throw a spotlight on conservation of wildlife.   

Read: Man vs Wild: Narendra Modi Was Calm in Crisis, Says Bear Grylls

The Prime Minister in his statement said that for years, he has lived among nature, mountains and the forests and hence he was excited about the epic adventure in the forests of Uttarakhand.

"For years, I have lived among nature, in the mountains and the forests. These years have a lasting impact on my life. So when I was asked about a special program focusing on life beyond politics and that too in the midst of nature I was both intrigued and inclined to take part in it," the PM said in a statement.

Survivalist and adventurer Bear Grylls said he feels truly honored to get to spend time with PM Modi. "I feel truly honored to get to spend time with this remarkable world leader. The wild reminds us that we need each other and that together we are stronger. I am so excited to spend time with the PM and to get to know the man who leads this great nation," Bear said.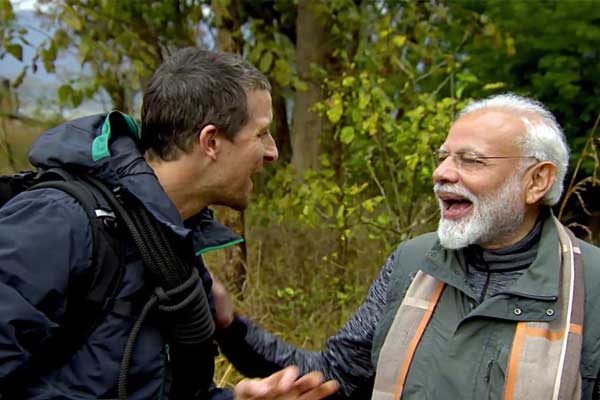 (Image source from: Hindustan Times)

The show will air globally on 12 Discovery network channels, including Discovery HD World, Discovery Science, Discovery Turbo, Discovery Kids, Discovery Tamil, JEET Prime, JEET Prime HD, Animal Planet, Animal Planet HD World, TLC, and TLC HD World.

Airtel TV subscribers can watch the episode on their mobile devices as well. You can also watch the episode on the official website of Discovery, discoverychannel.co.in.

By Sowmya Sangam