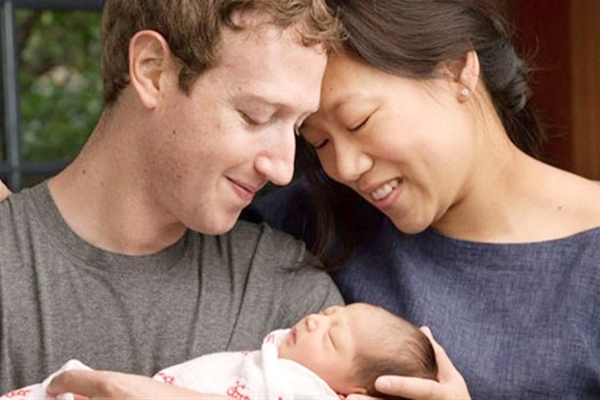 (Image source from: In Letter To Daughter)
Facebook's CEO Mark Zuckerberg and his wife said that they will give 99% of their shares over their lifetimes to charity. At present, they value nearly $45 billion. This was addressed by them in letter to their daughter Max, born last week.
This is in lines with a move by few other billionaires like Warren Buffett and Bill and Melinda Gates. They all pledged to set up foundations to gives their fortunes to charity.
Zuckerberg posted a photo of himself along with his daughter, Max, and wife, Priscilla Chan, on his Facebook page. A post also accompanied the photo that was entitled 'A letter to our daughter.'
The letter from Zuckerberg and Chan is a 2,220-word letter that touched the aspects of education, health, Internet access and learning. Also, the Chan Zuckerberg Initiative was announced aiming "advance human potential and promote equality." The initiative will focus on curing disease, personalized learning, Internet connectivity and community building. The couple said that more details would be shared by them after they come back from paternity and maternity leaves.
Early last week, Max Chan Zuckerberg was born. FB has not specified the date though. The baby weighed 7 lbs 8 ounces at the time of birth. Zuckerberg earlier announced that he would be taking paternity leave of two months after thir baby borns.
Till now, the couple committed $1.6 billion to their philanthropy, gave many donations this year to public schools, San Francisco General Hospital, initiatives designed to offer better wireless Internet access.
Zuckerberg (31) signed the Giving Pledge when he was 26. Under the pledge, the wealthiest individuals and families of the World commit for over half of their wealth to charitable causes or philanthropy over their lifetime or in their will.
Also read: Facebook CEO Zuckerberg Holds Q&A Session With IIT-Delhi Students
According to Zuckerberg, he still plans to remain Facebook's CEO for "many, many years to come," and according to Facebook, 'Zuckerberg is expected to be the controlling stockholder of the company for the foreseeable future.' The company said that he committed to give Facebook stock worth $1 billion every year for the coming three years.
-Sumana