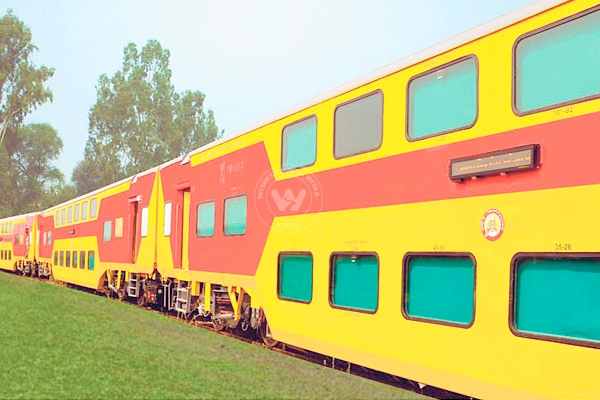 (Image source from: })
India's first air-conditioned double-decker Shatabdi train will very soon run from Mumbai to Goa. The announcement came from the Railways ministry, which introduced the double-decker train in that route keeping tourists' demand during winter season in mind.
Here are few facts about Shatabdi Express
• Commemorating the 100th birth anniversary of Pandit Jawaharlal Nehru, first Shatabdi Express was unveiled in 1988 by the Congress leader Madhav Rao Scindia.
• Shatabdi trains, which are daily trains come back to the station they started form by the end of each day.
• The Shatabdi Express running between New Delhi and Habibgaj in Bhopal is the fastest train in India running at a speed of 150 kilometre per hour.
Also read: Railways To Allow Waitlisted Tickets Of One Train To Next One http://www.wishesh.com/hot-buzz/47675-railways-to-allow-waitlisted-tickets-of-one-train-to-next-one.html
India, rail routes having double-decker trains
• Ahmedabad-Mumbai: It is the first superfast AC double-decker train that ran in September 2012 between Ahmedabad Junction and Mumbai Central.
• Howrah-Dhanbad: Started on 1 October 2011. With this India became the third country after USA and England to operate double-decker trains.
• Chennai-Bangalore: The train comprises 12 coaches including two engine coaches, 10 double-decker chair cars and takes nearly 6 hours to travel 358 kilometres.
• Delhi-Jaipur: Most frequent double-decker train that runs between Delhi and Jaipur, which began in 17 August 2012. The second shortest train covers 303 kilometres within 4 hours 30 minutes.
• Flying Ranee: Introduced by British in 1906, Flying Ranee is one of the oldest Indian trains that runs between Mumbai and Surat as a weekend special. It is labeled as the Queen of the West Coast. Recently, double-decker coaches were introduced, however, sometimes it runs with single deck coaches.
• Kacheguda-Tirupati: Double-decker train to Tirupathi from Kacheguda in Hyderabad was introduced last year to deal with the pilgrim surge to Tirupati. It runs 636 kilometre within 11 and half hours.
• Guntur-Kacheguda: Second double-decker train in Telangana. Introduced on 13 May 204. Runs 287 kilometres within 5 hours 10 minutes.
-Sumana