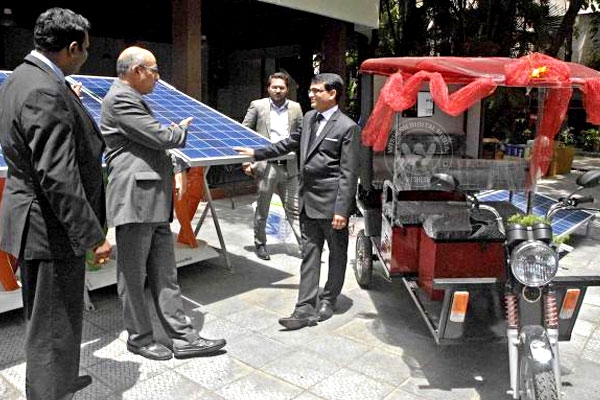 (Image source from: })
People E Cart Sales Pvt Ltd is marketing the e-rickshaw in India as a cheaper and greener option. Head of People E Cart Sales, Rishi Raj Rishab said that a special facility is available to charge 90% of capacity in half an hour, which is sufficient to cover 80 km on the three-wheeler.
Boosting the e-rickshaws as last-mile connectivity vehicle, the three-wheeler is a cheaper, greener option. The Nagpur-based company also claims that an e-rickshaw covers one kilometer for just 10 paisa.
The battery-operated three-wheeler vehicle can accommodate four passengers along with a driver, besides carrying 40 kg luggage. Manufacturers say that around 100 kilometers can be travelled on these vehicles with full charge of five hours. While the cost of each charge in nearly Rs 10 and requires about two units of electricity.
The vehicle is being promoted as a last-mile connectivity vehicle and not the one suitable for the highway because of the e-rickshaw's maximum speed of only 25 to 30 km/hr. The cost of this three-wheeler is Rs. 1.35 lakh.
"We are promoting this as a vehicle for use within residential areas and plan to take it to all the 30 district centers in Karnataka apart from Bengaluru," Rishab said.
-Sumana