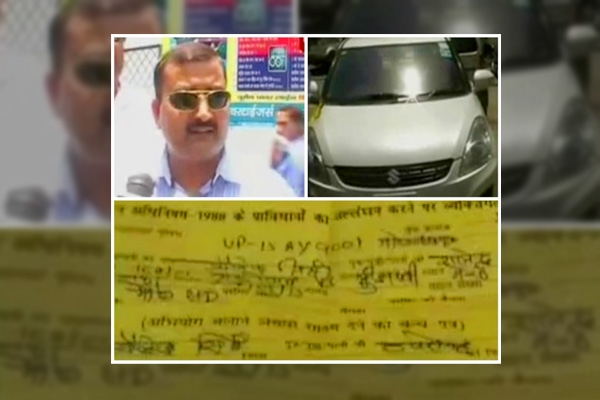 (Image source from: Shailender Singh fined for driving car without a helmet })
In an interesting traffic violation story, a man named Shailender Singh was fined by a traffic police on May 24 in Meerut, Uttar Pradesh. Shailender was fined for violating traffic rule while driving a car. He was issued a challan for not wearing a helmet while driving, infact a new rule which just came from nowhere!
Interestingly, the traffic cop made the receipt which had Singh's Maruti Swift's registration number on it.
Singh was on his way to a doctor's appointment for his 4-month-old son and was already running late when he was stopped by the traffic cop Shivraj Singh and was enquired about the car papers. Singh claimed that he was held even after the papers were all in order. This led to a fierce argument between them and ultimately being issued with a challan.
An enquiry has been initiated in this respect and Shivraj has been taken into custody. Shivraj said he had flagged down because Singh was speaking while driving. He insisted that the matter has been inflated. 
- Smrutirekha