(Image source from: Men walk on water})
Walking on water is impossible, but two hikers walked on water in a lake, the lake is located in high Tatras Mountains in Slovakia.
Tatras or Tatra, mountain range forms a natural border between Slovakia and Poland. They are the highest mountain range in the Carpathian Mountains.
The two walkers uploaded a video of short duration showing their balance on the lake water. However two individuals not walked for much distance and much time. You can find the video below the article. Many have tried earlier to walk on water in the past no one has succeeded.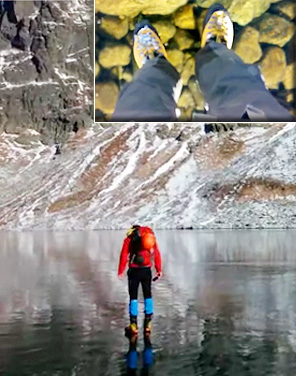 A wonder can be seen that the water shown in the video is not water. If you observe very closely you can notice the material on which they have walked. Lake was actually covered with solid water, so it made them to pretend as if they are walking on water.
Walking on water is not at all a wonder but showing the icy water as if real water is wonder that we have to appreciate. The video that posted online grabbed around 7 lakh viewers.
AW: Kannamsai