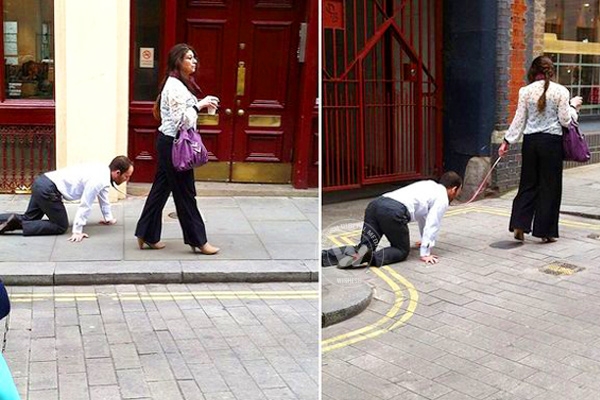 (Image source from: Lady walking a man like a dog})
Ever heard of a man on leash like a dog? Well we are not joking. Londoners came across a bizarre scene where several people witnessed a well dressed man walking like a dog, with leash around his neck. To top it all he was being walked by a smartly dressed woman.
The man was dressed in trousers, shirt and shoes. He had a a pink lead around his neck and was being pulled like a dog to work.
A smartly dressed woman had the other end of the lead on her hand while she walked him doggie style in a London street. The woman was holding coffee with her other hand as she walked along the street.
An amused Twitter user clicked a picture of this bizarre scene while commuting to work in the morning at around 10 a.m..
Ian Jeffery posted the bizzare picture on Twitter with the post: ' Did we really just see this outside work? A woman walking a man like a dog on a lead in #Farringdon #London #bizarre.'
(AW: Pratima Tigga)