(Image source from: Kim Kardashian takes the Ice Bucket Challenge})
Think you cannot see Kim Kardashian with smudged makeup and wet hair in your wildest dreams? Well, now you can.
The queen of reality TV show left all jaws dropped as she took the ice bucket challenge on Tuesday's Ellen DeGeneres Show.
While Kim is indeed late in taking up the challenge, nevertheless she did it sportily, even clicking a selfie during the drenching.
'I got a good one,' she told Ellen after her dousing.
Kim was the latest celebrity to take part in the Ice Bucket Challenge that raises awareness and funds for the fight against amyotrophic lateral sclerosis, also known as Lou Gehrig's Disease.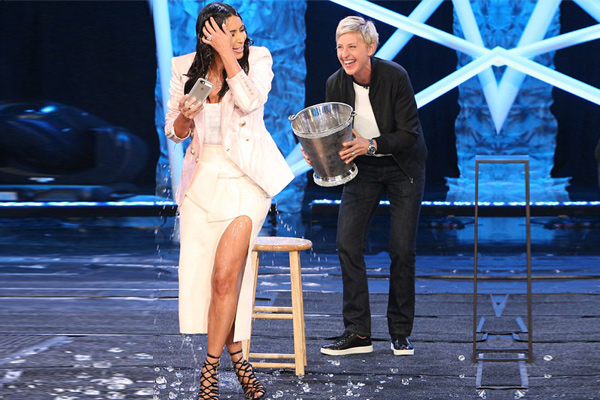 The ALS Association during the summer Ice Bucket Challenge has raised more than $100 million in donations.
Not just that! During the show, the 33-year-old Kim revealed her plans of expanding her family and said that she could have up to four kids with husband Kanye West.
Ellen suggested she could end up with six children.
'I don't think six. Three. Maybe four,' Kim said.
'OK, now you're at four,' Ellen told her.
AW: Suchorita Chowdary