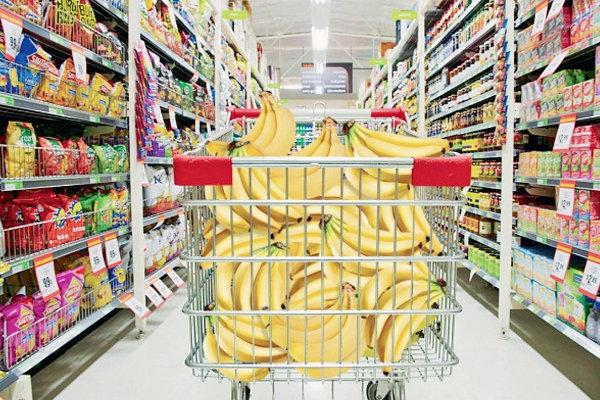 Mono diet dictates to eat only one food for several weeks in order to lose weight fast, something that many experts warn as dangerous and only be successful in the short term. The Mono Diet, which is sometimes referred to as Banana Island or Monotrophic Diet, has become increasingly popular since a YouTube star nicknamed "Freelee the Banana Girl," whose real name is Leanne Ratcliffe boasted about her weight loss in the year 2014. She claimed to have lost 40 pounds eating nearly 30 bananas a day.
Since then, a new version of mono diet, the Sweet Potato Diet, has been released in the month of April, touting how the spud can help you lose 12 pounds in just two weeks.
Meanwhile on Instagram, the pictures of people's meals containing a single food, has more than 38,000 posts, and the diet was one of the most searched in 2016, according to Google. Comedian and magician Penn Jillette even wrote a book last year about how he lost 100 pounds by eating nothing but potatoes for two weeks to kick off his diet. And Matt Damon revealed that he ate only chicken breasts to drop weight for his role in "Courage Under Fire."
"Yes, this diet can produce weight loss. But, the weight loss is a result of caloric restriction — not because any particular food is magically producing weight loss. It's an incredibly restrictive and unbalanced diet and I do not recommend that anyone follow it," said Frances Largeman-Roth, a registered dietitian and author of "Eating in Color."
In addition to the low caloric intake, which cause the symptoms like dizziness, a Mono Diet can also cause some serious health problems. The diet has landed Ashton Kutcher in the emergency room in the year 2013 after he followed the "Mucusless Diet Healing System," and based his diet only on fruit intake.
"I ended up in the hospital two days before we started shooting ['Jobs']," he told to the reporters at the Sundance Film Festival. Later, at a press conference, he also said that, "My insulin levels got pretty messed up and my pancreas kind of went ... crazy. The levels were really off, and it was painful."
Amy Gorin, a New Jersey City-based registered dietitian and also nutritionist, said that such diets can have a negative impact on the metabolism and also may cause muscle loss. By the intake just one food, people will be taking in too much of certain vitamins or minerals, for example, potassium from the bananas. In addition, it will be really hard to maintain the weight loss once if you go back to the normal diet.
Healthy Fats Aid To Beat Cholesterol Levels
Mrudula Duddempudi.