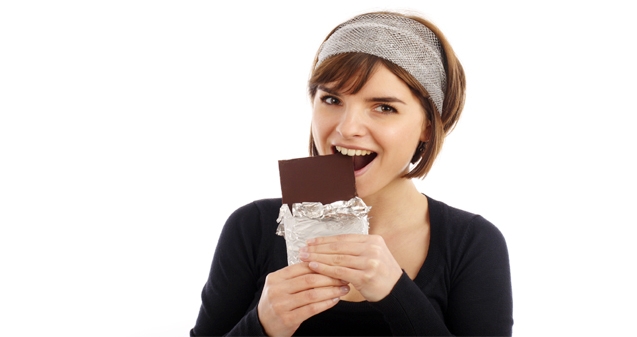 Do you reach out for a bar of tempting dark chocolate for an instant pick-me-up? If you don't count the calories, these yummy treats are good for your health!
But like most irresistible foods, chocolate has its pros and cons too. There are a lot of studies around chocolates and health that are often misleading. "So take them with a pinch of salt," says Dr Ameya Udyavar, a Mumbai-based Cardiologist and Electrophysiologist.
Helps relieve PMS symptoms
Chocolate is a good source of magnesium. "100 gms of pure dark chocolate or cocoa contains up to 500 mg of magnesium," says Naini Setalvad, a Mumbai-based nutritionist. Magnesium helps ease menstrual cramps. So that gives you a good reason to have chocolate before and during your periods.
"Deficiency of magnesium can also aggravate other premenstrual symptoms like stress and edginess," Naini says. It is therefore a good idea to keep a bar handy. Magnesium also acts as a laxative; therefore chocolates also cure constipation.
Chases the blues
Feeling low on energy? Have a bite of chocolate! "Cocoa in chocolate is a powerful antioxidant. It contains a large amount of tryptophan, an amino acid, that lifts your mood," adds Naini. Lack of the chemical phenylethlyamine or PEA causes depression. Chocolate, especially dark, therefore works as an anti-depressant too as it is rich in PEA.
Good for your heart
Dark chocolates are rich in flavanoids that are good antioxidants. "Flavanoids also reduce the production of free radicals in blood vessels thus protecting arteries from damage," explains Dr Ameya. It is also known to be a good brain food as it improves blood circulation in the brain and boosts memory.
White v/s dark chocolate
It would be wiser to choose dark chocolate over milk or white as "sweetened, concentrated milk could cause health problems like diabetes and obesity if consumed daily," reveals Dr Ameya. Consuming up to 30 gms (thick: a small bar) of dark chocolate a week won't harm your health, unless you are diabetic.
So, go ahead and dig into a treat of dark chocolate on a tough day at work.
source : idiva