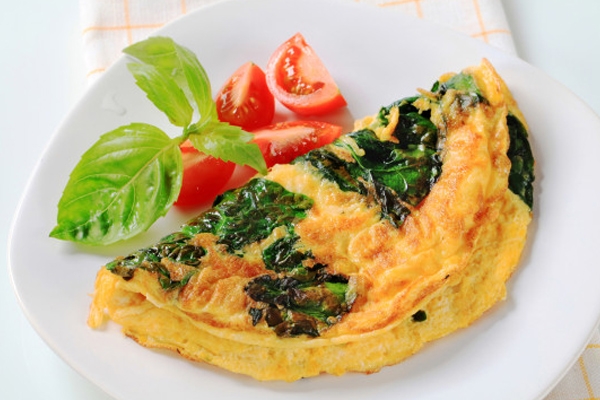 Spinach Tomato Omelette is a very healthy, delicious and less time consuming breakfast recipe.  Spinach is a good source of iron, while egg consists as a rich source of protein.
Ingredients:
Tomatoes: 2 (sliced)
Baby spinach leaves: 1/2 cup (chopped)
Oil: 1/2 teaspoon
Spring onion: 2 tablespoons (chopped)
Cheese: 2 tablespoons (shredded)
Eggs: 2 to 3 (beaten)
Salt as per taste
Black pepper powder as per taste
Method:
Heat oil in a pan over medium flame.
Saute the onions and spring onions for a minute.
Add the spinach  leaves and cook until it starts to wilt.
Remove and transfer to a bowl.
Add the beaten eggs and mix well.
If required add a little water.
Place a nonstick pan over medium flame.
Pour some of the egg mixture and swirl it around a bit.
Cook until it starts to set.
Sprinkle cheese, salt and pepper.
Lift the omelette and reduce flame to low.
Cover and cook until the egg has set completely and cheese is melted.
Remove and serve hot.
Also Read: Mutton Adai recipe!
Nandini