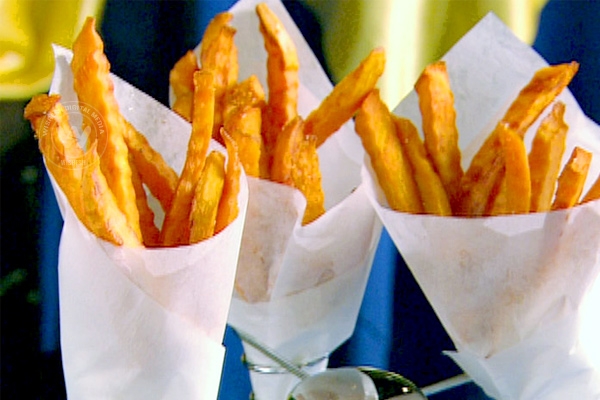 (Image source from: })
Baked Sweet Potato Fries are healthy and quick to prepare snack items for lunch box. These Sweet Potato Fries, which are baked, are soft, yummy and healthier compared to regular French fries. Your kids will love these snacks which taste great when dipped in ketchup.
Preparation Time for Baked Sweet Potato Fries: 10 minutes
Total Time to prepare Baked Sweet Potato Fries: 35 minutes
Makes: 6 Servings
Serving size: 4 or 5 wedges
Ingredients required for Baked Sweet Potato Fries
Sweet potatoes: 2 pounds (about 4 small)
Olive oil: 2 tablespoons
Chili powder: 1 1/2 teaspoons
Kosher salt: 1 1/2 teaspoons
Preparation method for Baked Sweet Potato Fries
• Preheat your oven to 425°F.
• Cut sweet potatoes into half lengthwise.
• Place the flat side down on a cutting board.
• Now cut these halves into wedges with one-inch width.
• Mix oil, salt and chili powder in a bowl.
• Take a roasting pan, place potatoes, brush with oil mixture.
• Place potatoes on the pan. Put the pan in oven.
• Cook until potatoes turn soft for 20 to 25 minutes.
• Season with salt.
-Sumana