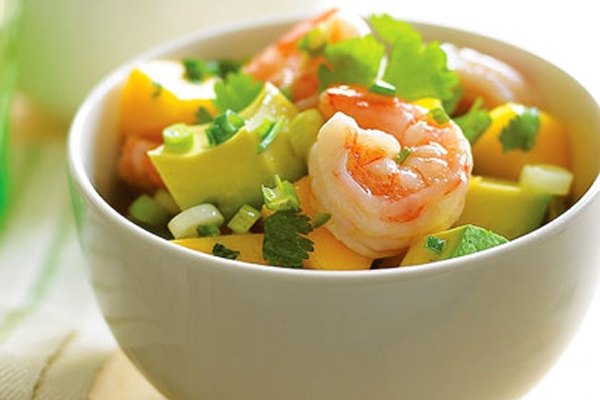 Most of us wants mango flavor in all our foods in summer. The Crab and Mango Salad is an interesting mix of sweet, salty and sour flavors.
Follow the simple steps to know how to make this mouthwatering salad.
Ingredients:
Cubed Gadre Crab Sticks: 1 packet
Mango: 1/2 cup (diced)
Lemon juice: 1 tablespoon
Olive oil: 1/4 cup
Soya sauce: 1 tablespoon
Cherry tomatoes: 1/2 cup
Green olives: 1/2 cup
Mustard: 1 tablespoon
Small bunch of lettuce and sprouts
Salt to taste
Black pepper
For the dressing:
Whisk 1 tablespoon of olive oil,  salt, black pepper,  orange and lime juice, mustard sauce and soya sauce.
Prescription method:
First, toss the lettuce, cherry tomatoes, sprouts, mangoes and green olives in the dressing.
Take Gadre Crab Sticks and toss slightly in the dressing.
Now, bring it all together and serve.
Also Read: Green Mango Panna!
Nandini