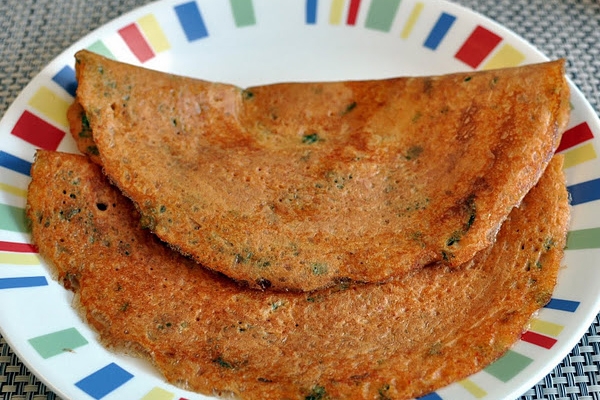 Adai is a famous South Indian breakfast/dinner dish. It is similar to dosa and slightly thicker and heavy. The dish uses minced mutton and is equally delicious as normal adais.
Ingredients:
Minced Mutton: 100 grams
Parboiled Rice: 100 grams
Bengal Gram Dal: 50 grams
Saunf: 2 tablespoons
Toor Dal: 50 grams
Moong Dal: 2 tablespoons
Shallots (Sambar Onions): 2 tablespoons
Coconut: 2 tablespoons (grated)
Ginger Garlic Paste: 2 to 3 tablespoons
Curry Leaves: few
Coriander Leaves: few
Cumin Seeds: 2 tablespoons
Dry Red Chillies: 2 tablespoons
Asafoetida Powder: a pinch
Salt as per taste
Oil as required
How to make Mutton Adai:
Soak the parboiled rice in water for 60 minutes.
Combine the dals and soak for 60 minutes.
Drain well and combine the rice and dals.
Add mutton, cumin seeds, red chillies and saunf.Grind to a coarse batter.
Add curry leaves, ginger garlic paste, coriander leaves, asafoetida powder coconut, and salt.
Saute the onions in little oil and add to the batter.
Mix well and keep aside for 10 to 15 minutes.
Heat a pan over medium flame.
Pour a ladleful of the batter and spread evenly.
Apply oil around the edges and cook on both sides.
Serve hot with chutney and sambar of choice.
Also Read: Delicious evening snack- Egg Bajji!
Nandini