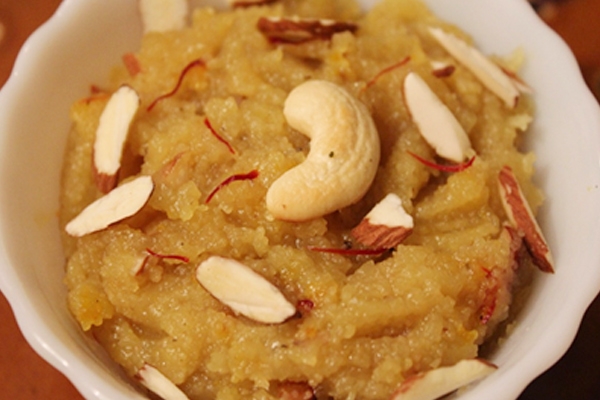 Apples are extremely rich in important antioxidants, flavanoids, and dietary fiber. The phytonutrients and antioxidants in apples may help reduce the risk of developing cancer, diabetes, hypertension and heart disease.
Apple Halwa is a simple, tasty and easy to make apple recipe. Serve it as a dessert or a meal.
Ingredients:
Apple: 1
Unsweetened khoya: 1/4 cup
Sugar: 1/4 cup
Ghee: 1/4 cup
Cardamom powder: 1/2 teaspoon
Cashew nuts: 1/2 tablespoon (broken)
Almonds: 1/2 tablespoon, sliced
How to make apple halwa:
First, peel and grate the apple.
Heat ghee in a pan over medium flame.
Fry the almonds and cashew nuts for 30 to 60 seconds.
Add the grated apples and reduce flame.
Simmer for 10 minutes, stirring from time to time.
Add the khoya, sugar and stir well.
When it reaches a halwa consistency and starts to leave the sides of the pan, add the cashew nuts, almonds and cardamom powder.
Remove and store it in an airtight container.
Serve as a dessert to any meal.
Also Read: Healthy Apple, Tomato and truffle soup!
Nandini