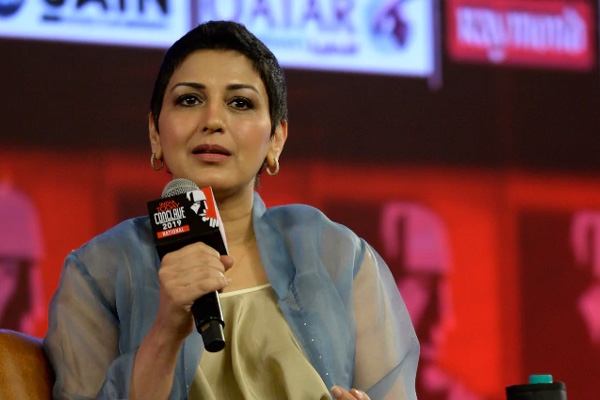 (Image source from: India Today)
Indian actress Sonali Bendre has inspired millions with her fight against cancer. The actress was diagnosed with high-grade cancer earlier this year and had to be treated in New York.
Ince then Sonali kept her fans in the loop with her health updates. Despite weary and draining days, Sonali was determined to "switch on the sunshine" in her words and take one day at a time.
At the India Today Conclave 2019, an emotional Sonali opened up about her tumultuous journey with its moments of crippling anxiety and worry. She said that the toughest part was surgery. She had been under the impression that she would've to do robotic (minimally invasive) surgery.
"The doctors then told me that cancer had spread so much that they had to cut me up. I now have a scar which is 20 inches on my midriff. I got so hyper about the scar on my body. I was so frightened of it. I didn't know if I would come back or not.
"My sister hugged me when I was going for the surgery, I said, Don't be dramatic, I'm coming back. But that part was painful, the thought that I might not be there for my son and family. I was happy when I came out of the hospital and said yes, I'm alive," she added.
She said there is no avoiding the pain, and that's why she wanted to share it with the world. "But you must minimize the pain, and prolong the good moments."
Sonali said that the one thing the deadly disease has taught her is that there is still some humanity in the world. "I know my son will be okay. There is some good in the world."
Recently, on World Cancer Day, Sonali took to Instagram to pen an emotional note.
"Just the mere mention of the C word brings dread in the hearts of anyone who hears it. We fear it so much that we'd rather not talk about it...which is why it's important to have a day where we pull out the band aid and help us deal with this disease. I was scared too, but soon realized that burying my head in the sand was not the way to deal with this," she wrote.
"And so... with the little experience I have had, I urge you all to take the time to understand it. There's more to cancer than being emotional or weak or even being called a fighter or a survivor," she revealed, adding that "it is about living every day, and not just surviving".
-Sowmya Sangam