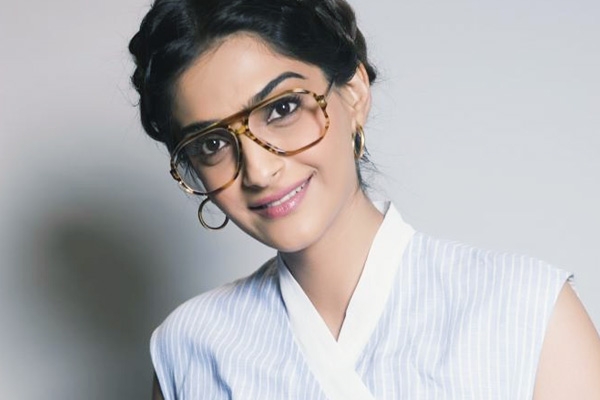 (Image source from: Deccan Chronicle)
Bollywood actress Sonam Kapoor is facing rage from Twitter users after she shared a post that has been widely making rounds on supporting peace, and stopping hatred in the wake of rising Indo-Pak relations. The post originally appeared on a Facebook parody page, Humans of Hindutva.
However, many Twitter users were quick to hit out at Sonam calling her 'anti-Hindu' and talking of 'Hindu fundamentalists'. Quite a lot even slammed Sonam for making the recent tension seem like a Hindu-Muslim issue.
The shared post by Sonam Kapoor reads:
The average Indian has more in common with the average Pakistani than he does with a Hindu fundamentalist who wants to bomb in the name of Ram and lynch minorities and rally in support of child rapists.
The average Pakistani has more in common with an average Indian than he does with an Islamic fundamentalist who wants to bomb others in the name of Allah and oppress women and put guns in the hands of children.
Ordinary citizens everywhere just want to have a normal life and go to work and raise their children well and save up for a decent home.
Hindu and Islamic fundamentalists both have loads in common. Their minds are poisoned by hate and they both lack empathy for the other side. They both want war and do not care for its consequences. The cost of this extraordinary hatred of fundamentalists in both countries is eventually going to be paid by the ordinary citizens of both countries and the soldiers who are always first in line of a fire they did not ignite.
Some of the reactions on Twitter:
Why we need external enemies when we have enemies within like swara bhaskar, sonam kapoor and liberals???#CongressPakistanUnited

— B. Rohith Kumar (@rohith_speaks) February 28, 2019
Dear Sonam Kapoor,
The average actress as yourself has more in common with every girl on tik tok who calls herself an actress.

But, we still tolerate you with all your hate towards the country and it's culture that gives you a celeb status!
You, yourself is a fundamentalist!

— Perfect Errorist (@TheNitishaDixit) February 28, 2019
Priyanka Chopra, Sonam Kapoor, Swara Bhaskar and many others who are hidden defame Hinduism purposefully. Seems blaming Hinduism brings more offers to them. The modern day #Bollywood is a curse to India.

— Tweeting Sense (@unreservedmerit) February 28, 2019
Sonam kapoor just compared Hinduism with Islam. Just ask this dumb fcuk what was the religion of the terrorists who hijacked the plane in which neerja bhanot was the air hostess .

— BING (@ya_jhakaas) February 28, 2019
B*tch Sonam Kapoor is right!
It was cos of Hindu radicalism which led Osama to attack twin towers, Hindu radicalism in Europe caused London and Madrid bombings, attack on DusitD2 in Kenya etc pic.twitter.com/1tJoAitSre

— The Notorious B.E.E(@chatpataka100) February 28, 2019
Shame on @AnilKapoor for raising anti Hindu daughter who says Hindus throw bombs in the name of RAM
Hindus rape in the name of their GOD
When did Hindus throw a bomb?
What a moron ths SONAM KAPOOR is?
I want all Hindus to protest against this Kapoor family
Ostracize Kapoors

— Girish S(@girishs2) February 28, 2019
it's time to consult to that doctor who helped in birth of "Sonam Kapoor" that.... is she real daughter of Anil Kapoor or some one else? because in spite of being hindu how can u compare with that religion(Islam) which encourages to killing of innocents on d name of jihad. pic.twitter.com/kWFTLX7GZr

— Karuna tyagi (@i_am_karuna) February 28, 2019
-Sowmya Sangam