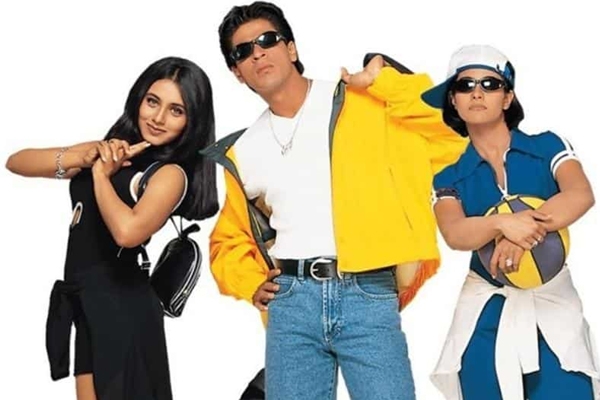 (Image source from: hindustantimes.com)
Twenty years after making people fall in endearment with his notion of romance in his debut Kuch Kuch Hota Hai, Indian film director Karan Johar says the film's much-fictitious hero, Rahul (Shah Rukh Khan) was "a bit of a fraud".
The 1998 film was an enormous commercial smash hit and the three central characters - Rahul, Anjali (Kajol) and Tina (Rani Mukherji) are well liked even today.
The dialogues from "Pyar dosti hai" to "Kuch kuch hota hai Rahul, tum nahi samjhoge" are even now engraved in fans' minds.
When asked how would Rahul and Anjali be today two decades later, Karan said, "Rahul was a bit of a fraud anyway. He used to say 'we love once, marry once' but did it twice. In my head, I hope the marriage works, but it must have been a tough marriage.
"I hope the little Anjali [Sana Saeed] isn't messed up, because at eight she was loaded with so much information."
The flick redefined new age friendship and romance, and Karan said the movie was a great learning experience for him. He credits the film for his prosperous innings in Bollywood.
"I remember every single moment from the film. I remember all the struggles, the joy, the fun while making," he said in an interview here. The first scene that the 46-year-old filmmaker shot for the movie never made it to the final cut.
Recalling about it, Karan said, "It was a doctor's set with Shah Rukh in it and I had directed it poorly but he (Shah Rukh) was kind. When I shot that dentist scene, I edited immediately and showed it to him. I realized it was a bad scene and told him about it.  "And he said, 'As long as you know it! I am happy that you do.' I removed that scene."
It was Shah Rukh who recommended Karan to kick off the shoot of the film with a song, as he can settle down by then. "Farah did the songs and Shah Rukh said, I should supervise it. Then I got confidence. Now I always tell first-time directors to start with a song because the atmosphere is fun and light so you can settle with your characters and then start your film," he said.
In a recent interview with PTI, Kajol had said with Kuch Kuch Hota Hai, she learned the importance of on-screen chemistry.
"What I realized is that when you have fun off screen it translates on screen. Your off-screen equation is conveyed on screen. There is some relatability, touchability, that comes on screen... You don't know what is it that attracts people," she added.
Calling it as one of her favorites, Kajol said, it is special as it was made with all her friends.
"I think even today when I think of that film the first person that comes to my mind is Yash (Johar) uncle, he took such good care of us and we actually felt privileged to be working under him.
"He was one of the nicest people that I have ever met in my life. It was my honor to know him," she added.
-Sowmya