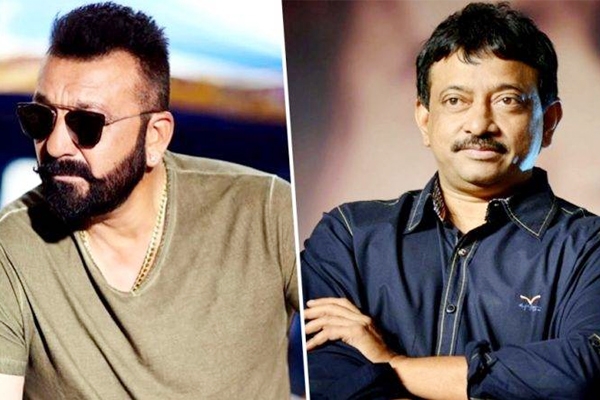 (Image source from: Latestly.com)
Appalled and amused by the fibs , semi-truths and whitewashing of Bollywood actor Sanjay Dutt's representation in Rajkumar Hirani's apparent biopic Sanju , Ram Gopal Varma who spent appreciable time with Sanjay Dutt during the period of time when the actor was being interrogated for his alleged hand in the 1992 Mumbai blasts, will now tell actual story.
While Varma himself decides to stay still for legal reasons, a source close to the filmmaker describes Hirani's biopic as a Walt Disney version of Sanjay Dutt's life.
"It's all pink-pink rosy-rosy. Baba was a victim… Baba didn't know what he was doing….Whatever Sanjay Dutt wanted to be told in Hirani's film has gone into the film. Ramu knows the truth. He was shooting Daud with Dutt when he was being rigorously interrogated by the cops for his alleged hand in the blasts. Dutt would land upon location quite shaken. He once confided in Ramu how he tried to call Madhuri Dixit from the police station and her father answered the phone saying she doesn't want to talk. Ramu wants to know how Hirani could overlook these people like Tina Munim, Madhuri Dixit, Richa Sharma, and Rhea Pillai who played such an important part in Dutt's life."
They will form a crucial part of Ramu's narrative. As will the so-called "bad company".
Says the source close to Ramu, "Hirani would like to blame Dutt's friends for his troubles. But Ramu has spoken to very senior police officers who were in charge of the case. They say the friends were not responsible for his troubles. He was responsible for all the troubles in the lives of the people who stood by him."
There is beside the combative issue of Sanju's best friend.
Says the source close to Ramu, "The loyal friend played by Vcvky Kaushal is supposed to be based on Dutt's Gujarati Non-Resident Indian friend Paresh Ghelani. However, Ramu can vouch for the fact that Ghelani was nowhere on the scene when Dutt's troubles with drugs and the law happened. Ghelani came much later. So the film is actually distorting the truth for the convenience of giving the Rajkumar Hirani twist to the actual story. It's like what Karan Johar has done to Sairat."
As for those who think Ramu will be obstructed in his endeavor by Dutt's legal advisers, Ramu is put in a safe zone.
As for the title, Ramu may call his Sanjay Dutt biopic Sanju or Baba. But not Sanju Baba.
-Sowmya