(Image source from: Salman Khan praises Dolly ki Doll team})
Salman Khan tweets about the movie 'Dolly Ki Doli'. Produced by his younger brother- Arbaaz Khan and stars his close friend Anil Kapoor's daughter Sonam.
Salman expressed through a series of tweets saying that 'Dolly Ki Doli' with Sonam as its lead and Pulkit Samrat, Rajkummar Rao and Varun Sharma as the heroes, is a fun-filled film.
He showered with the praises for his brother Arbaaz and the director of the film- Abhishek Dogra.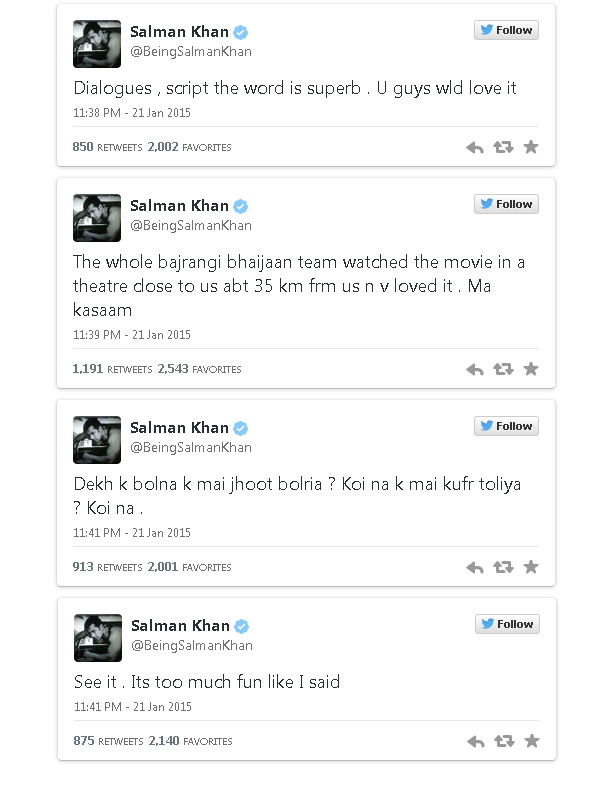 The actor, who is busy in shotting bajrangi Kabir Khan's 'Bajrangi Bhaijaan' in a Rajasthani village, saw the film along with the entire crew.
The Dolly Ki Doli' is being loved by the movie experts and the team is just waiting for the movie to hit the silver screen this Friday.
But Dolly Ki Doli is likely will have to face a tough competition from Akshay Kumar's Baby which is releasing on the same date, January 23. 
Hpoe the best for the two filims and as the India huge population, so its possible to cater audicence.
-Arun Kumar