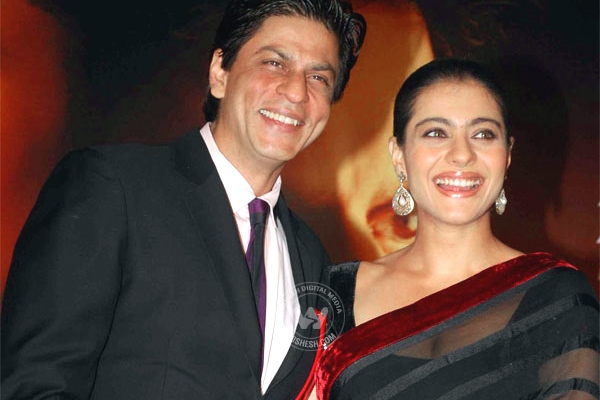 (Image source from: 'Kajol is magical on screen')
Shah Rukh Khan and Kajol are great friends and the friendship translates into great chemistry on the screen. In fact the chemistry grows film after film. Now the pair is returning with "Dilwale" after five years. Describing Kajol as magical on-screen, SRK said in an interview that he misses the actress in all his films.
Lovely Bollywood pair, SRK and Kajol, has just celebrated 20 years of "Dilwale Dulhania Le Jayenge" by re-creating the iconic poster on the "Dilwale" sets. According to SRK, it was a co-incidence that they were got together in the action-comedy directed by Rohit Shetty.
The 49-year old actor said that, "I miss Kajol in every film. With this film she gave us 150 days. She had to be away from her children and I know it is a huge sacrifice for a parent,"
"We are restless people who want to do more films, earn more money but Kajol is a rested soul. She doesn't care about these things. We are thankful that she took time out for this movie," added SRK in an interview on the sets of the film.
SRK-Kajol pair was earlier seen in Baazigar, Karan-Arjun, Dilwale Dulhania Le Jayenge, Kuch Kuch Hota Hai, Kabhie Khushi Kabhi Gham and My Name is Khan.
Interestingly, SRK did not have a good first impression on the actress. He said, "When I was working with her in 'Baazigar', Aamir asked me about her as he wanted to work with her. I left him a message saying, 'She is very bad, no focus, you will not be able to work with her' and then I saw the rushes in the evening. I kept calling Aamir to clarify. I told him, 'I don't know what it is but she is magical on the screen',"
"Kajol is not technical, she is an honest actor and that's a great quality. My daughter (Suhana) wants to become an actor and I would want her to learn that. I hope I learn that from Kajol. I can't explain but she is something else on screen."
Shah Rukh is working continuously to finish "Dilwale" shooting. He is also the producer of the film and is scheduled to release on 18 December, also starring Kriti Sanon, Varun Dhawan, Boman Irani, Johnny Lever, Varun Sharma, Pankaj Tripathi, and Sanjay Mishra.
- Sumana