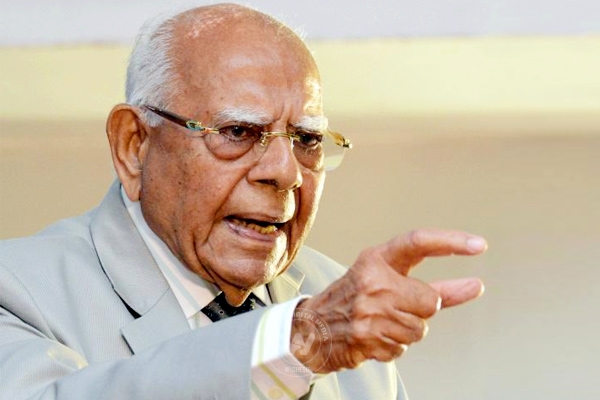 Ram Jethmalani, a member of Rajya Sabha, said that Modi must be punished and should suffer a defeat for his "anti-people policies". He accused Modi of cheating people in a severe attack on the PM.
The Rajya Sabha member urged people to defeat the BJP-led NDA and to vote for Nitish Kumar in the Bihar assembly polls. Jethmalani said, "Narendra Modi should suffer a defeat because he has cheated the people." He urged people to punish Modi for his anti-people policies adding, "If I had a vote, I would today vote for Nitish Kumar because I want Modi to suffer a defeat".
Ram Jethmalani said, "The BJP should be taught a lesson for having defrauded the people and armed forces. Democracy without education is hypocrisy without limitation."
The veteran lawyer said, "Today I have come here to do 'penance' for what I did by promoting Narendra Modi as the leader of the country (before the Lok Sabha polls). I thought that God has sent him as his 'Aulia' (representative) for India's salvation...How I became the victim of fraud." Jethmalani spoke to reporters while he was there to fight for 'One Rank One Pension' scheme for army personnels.
In a reaction to suggestion from RSS chief Mohan Bhagwat for the formation of an independent body for the review of affirmative action intended for economically backward classes, Mr Jethmalani said, "Just because an RSS leader says something it can't happen. Any change in the existing framework of reservations will require constitutional amendment."
Also read: Two Sons Of Lalu Prasad Yadav Enter Electoral Politics In Bihar
Ram Jethmalan was former Law Minister in the Vajpayee government. In 2013, Jethmalani was expelled for six years from BJP for publicly rebelling against Nitin Gadkari, the then party president.
-Sumana