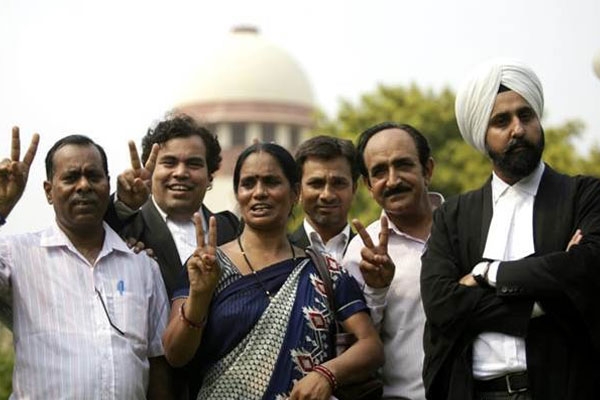 (Image source from: The Indian Express)
The Supreme Court of India has endorsed the death sentence in the 2012 New Delhi gang-rape case, a crime that caused prevalent demonstrations leading to tougher anti-rape laws.
The country's top court sustained its individual ruling on the death sentence given against four men who fatally gang raped a 23-year-old physiotherapy scholar, recognized as Nirbhaya, on a moving bus in New Delhi.
"There is no material to review our order," said the three-judge bench led by Chief Justice Dipak Misra, on the review petition filed by three of the four convicts - Mukesh, Pawan Gupta, and Vinay Sharma - who had been handed the death penalty.
The victim's father Badrinath Singh voiced his gladness said his daughter has "finally got justice". He added saying "... It took the court one year to review the petitions. However, I am happy that my daughter has finally got justice."
Among six people detained for this crime, one committed suicide in jail in 2013, while a juvenile perpetrator was condemned to three years in a reform facility and freed in 2015.
The brutal crime drew worldwide attention over ferocity against women in India.
"Victorious moment"
After the vicious gang rape and killing of the paramedic student, a fast-track court had sentenced four perpetrators to death less than a year after. It was later upheld by the high court.
Rohan Mahajan, the lawyer representing the family of the gang-rape victim, said it was a "victorious moment".
"Faith in the judiciary has been reinstated. We are satisfied today..." Mahajan told local ANI news agency.
Senior Supreme Court lawyer, Vrinda Grover, said that she was "not at all convinced that it [the verdict] will be a deterrent this time around".
"The death sentence had been confirmed by the Supreme Court sometime back and this was a review petition. What has happened between the confirmation of death sentence and now - there is no diminution of sexual violence against women," Grower said.
She further said: "There is absolutely no link between a death sentence and deterrence of crime. Hanging a few men will not change the manner in which women are affected by sexual violence in their daily lives. We will be distracted by this death sentence while this enables the state to abdicate its responsibility to protect women."
By Sowmya Sangam