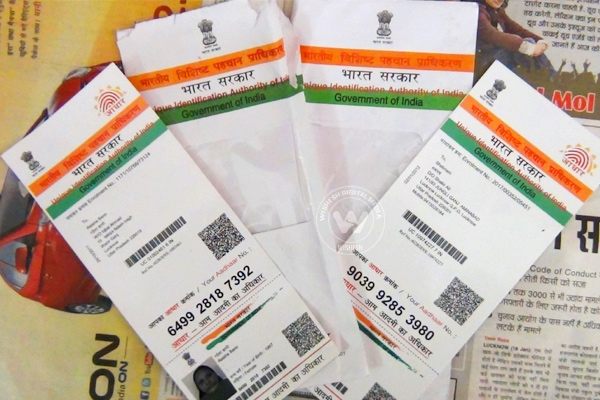 (Image source from: })
Headmasters of several schools in Bengaluru have been insisting students to provide their Aadhaar card details and told students without Aadhar to register for it mandatorily. Students without Aadhar are facing problems as they are being pushed for it even for a school trip. Also Aadhar numbers are made mandatory for submission of school assignments.
Even though the Supreme Court has ruled that it is not mandatory to link Aadhaar to get government subsidies, sources reveal that the Education department has been 'pushing' students for Aadhaar number for linking the details to its database, reported the Hindu.
However, department officials have claimed that it is not mandatory to submit Aadhaar. But, the department plans to make arrangements to set up camps in schools to facilitate students without Aadhaar to ensure that they are enrolled. This comes after the Union Ministry of Human Resource Development (MHRD) directive. The State Education Department officials have been asked by the MHRD to finish the process on a war-footing. All headmasters have been asked for the submission of details of students with Aadhaar card by 17 October.
Repeated dead lines were sent to headmasters for Aadhaar details of students to link with the State government's 'Hejje Gurutu' project. The project is designed to provide a 17-digit code to students for first class to tenth class as a part of the effort to streamline academic performance.
Sarva Shiksha Abhiyan State Project Director P.C. Jaffer said that the provisions would be made by the department to make sure Aadhaar camps were set up in all schools.
Even for teachers and other staff
This is not only for students but also teachers and non-teaching staff of both government and aided schools were insisted on linking up their Aadhaar numbers to salary accounts.
As proxy roll number?
MHRD also has long-term plans to use Aadhaar as a proxy roll number.
A letter by the Director of the Department of School Education and Literacy to the Secretary of Primary and Secondary Education, Karnataka, states that, "Enrolment of students with Aadhaar should also be done. Department (State Education) may also explore the possibility of using Aadhaar as a proxy roll number for (students) appearing in examinations."
-Sumana