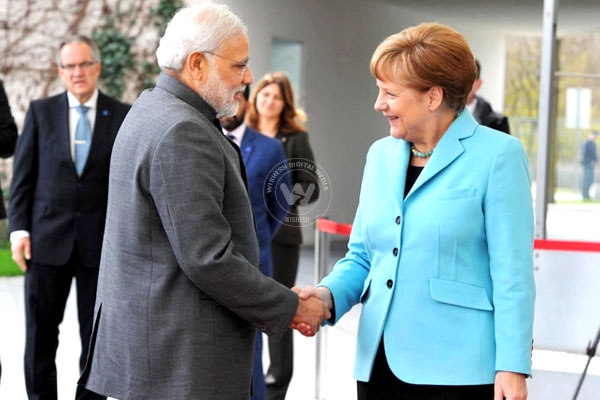 (Image source from: })
At the Inter-governmental consultations led by Prime Minister Narendra Modi and German Chancellor Angela Merkel, commitments worth more than 2 billion Euros have been sealed, which include more than 1 billion Euros package for solar projects in India.
Modi described Germany as a 'natural partner' for India's economic transformation during the third India-Germany inter-governmental consultations. Highlighting areas like clean energy and climate change facing a growing cooperation and high level convergence.
Also both leaders have committed to resume talks on the stalled FTA. As many as 18 MoUs signed covered areas like railways, education, food safety, security, manufacturing and skill development. MoUs signed on security included one on aviation security. This will see the sky marshals use.
Also read: First Of Its Kind Deal Between India, Germany For Fast-Track Business Nods
India has agreed for "single-point clearance" for German companies to enhance fast-track investments. This special facility would come in place by March 2016. Also co-operation in defence manufacturing was discussed in lines with Modi's 'Make in India' initiative.
Regarding climate change, Modi said, "We look forward to a concrete outcome at COP21 in Paris that strengthens the commitment and the ability of the world, especially of poor and vulnerable countries, to transition to a more sustainable growth path."
Intended Nationally Determined Contribution (INDC) that was submitted last week to the UN was welcomed by Germany, said Foreign secretary S Jaishankar.
"German response to our development agenda is very encouraging. We can look forward with confidence to increased investment, trade and technology partnerships in manufacturing, infrastructure and skill development," said Modi.
Both the leaders discussed on situation in Pakistan, Afghanistan, and West Asia along with maritime security in Indian Ocean. Refugee crisis in Europe was spoken by Merkel besides the situation in Ukraine.
A joint statement issued by India and Germany said, "Recalling the Outcome Document of the 2005 World Summit, the leaders committed themselves to an early reform of the Security Council. Both sides stressed the outcome of the meeting of the G4 in New York on September 26th and agreed to intensify efforts to realize concrete results in the 70th anniversary year of the United Nations."
-Sumana