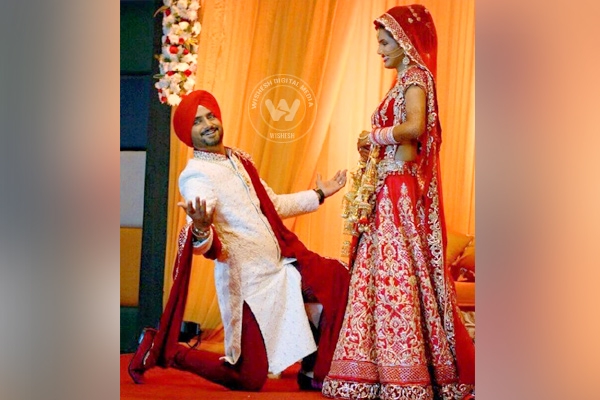 (Image source from: })
Harbhajan Singh had to come out of his wedding venue to apologize to a cameraman, who alleged that a security guard abused and broke his camera.
A brawl took place outside Harbhajan-Geeta's wedding venue, after the security guards, who were privately hired by Singh's family, allegedly smashed the camera of a video journalist. The camera person alleged that the security guard started abusing him after he gave the camera and even went on to broke it.
The video journalist was reportedly shooting some of the ceremony from the neighbour's roof. According to reports from Yahoo, FIR has been filed over four bouncers of the private firm.
All this made the newlywed cricketer to come out and listen to the entire incident narrated by the camera person and eventually apologized.
It is known that on 29 October 2015, Harbhajan and Geeta Basra tied the knot in a grand ceremony after keeping their relationship under cover for more than five years. Sources reveal that a bountiful reception is scheduled for 1 November 2015.
-Sumana