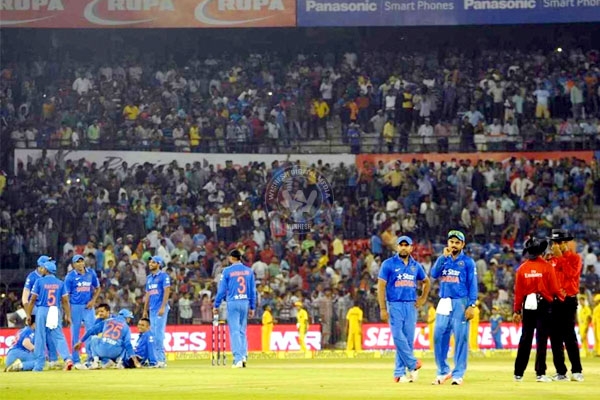 (Image source from: })
Due to disgraceful crowd performance at Cuttack on Monday, the second Twenty20 cricket match between India and South Africa was suspended twice during run chase by South Africa. Fans were angry over the performance of India and begun hurling plastic bottles on to the ground.
First time after 11 overs, the game was suspended when South Africa was 64 for three. The game was stopped for approximately 19 minutes then. Al though the play resumed, it had to be stopped gain after two overs. It was when the umpires C Shamshuddin and CK Nandan decided to take the players off the ground. However, due to the action taken by the officials of Orissa Cricket Association and the cops, match resumed. Eventually South Africa won the game by six wickets to go 2-0 up in series, as India also lost first Twenty20 international.
Indian cricket commentator and journalist, Harsha Bogle, tweeted, "Disgraceful scenes in Cuttack. Nobody has a right to throw bottles on to the ground. Crowd performance worse than that of the players,"
"Further disgrace. Players going off. Strong action needed. Cuttack letting India down," Bogle added 20 minutes later.
Although, South Africa and India are not likely to make official complaints against the incident, it is expected to be mentioned by the match referee in the report. It looked like, the nets installed in front of the stands have helped or else, it would have been a threat to players.
Commenting on the issue, Indian Captain, MS Dhoni said, "Frankly I don't think it was a very serious threat. There were some people who threw the bottles inside the ground. When we do not play well at times you get such a reaction. We should not read too much into it. A section of the fans started this after our innings. Later, other sections also joined in the fun. I still remember once we had won a match in Vizag and still bottles were thrown," said the India captain.
Describing the incident as disappointing, Faf du Plessis, South Africa captain, said, "It's not nice to see it. I've played five-six years of cricket in India, and I've never seen that. So, you don't want that to be a part of the game. You come here to compete, and the best team walks away winning. To have that happening, I don't think it's a good thing. It shouldn't happen. Even the way the game was played towards the end, it lost its intensity because obviously India thought that we've already won as we needed only 20 runs. Disappointing in that sense, and hopefully it's the first and the last time we see it on this tour."
-Sumana