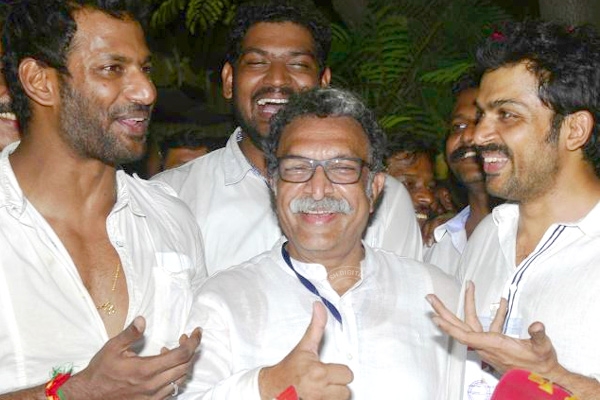 (Image source from: })
After pulling off a thrilling win, 'Pandavar Ani' members have celebrated their win at the Nadigar Sangam elections. Winners, actors Nasser and Vishal will assume the posts of President of Nadigar Sangam and general secretary, respectively.
The victory is labeled thrilling as the result was suspense till the last minute at St. Ebbas Girls Higher Secondary School in Mylapore on Sunday. The difference between the rivals was not considerable most of the time. Team Vishal, which seemed trailing initially, went on to win with a narrow margin.
The new general secretary, Vishal won over Radha Ravi by marginal 307 votes. Radha Ravi had been the general secretary for nearly a decade. Vishal bagged 1,445 votes, while Ravi got 1,138 votes. Coming to Nasser, the actor won 1344 votes and won against Sarath Kumar with a margin of 113 votes. The win was significant for Vishal as he boldly announced that he would contest against Radha Ravi for alleged abusive behavior against him.
A systematic campaign was earlier launched by the team against Sarath Kumar, former president, and Radha Ravi, former general secretary. The focus is on agreement signed between Nadigar Sangam with SPI Cinemas for the development of 19-ground prime property in the city.
-Sumana