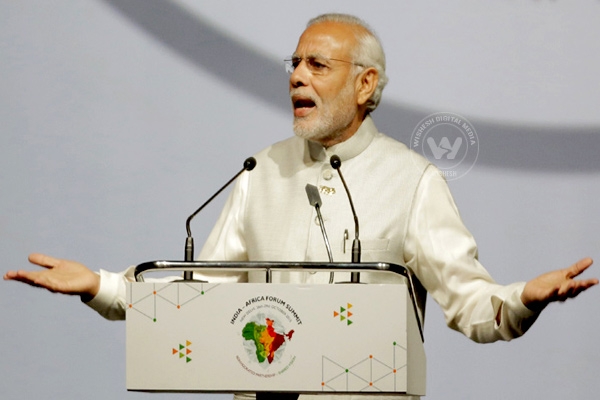 Addressing the India-Africa Forum Summit in Delhi, Prime Minister Narendra Modi said that India and Africa must speak in a single voice at the international institutions such as the UN Security Council for reforms. He also made an announcement of $10 billion credit to Africa, besides the ongoing credit program.
Modi said, "To add strength to our partnership, India will offer concessional credit of $10 billion over the next five years. This will be in addition to our ongoing credit program."
Like on Wednesday, Modi again made a common cause with African nations saying that international institutions do not represent the whole world, if no place is given to India and Africa.
Modi reiterated that, "This is a world of free nations and awakened aspirations. Our institutions cannot be representative of our world, if they do not give voice to Africa, with more than a quarter of UN members, or the world's largest democracy with one-sixth of humanity. That is why India and Africa must speak in one voice for reforms of the United Nations, including its Security Council."
Also, $600 million assistance was promised by the PM to the continent besides 50,000 scholarships for African students in India.
"We will also offer a grant assistance of $600 million. This will include an India-Africa Development Fund of $100 million and an India-Africa Health Fund of $10 million.It will also include 50,000 scholarships in India over the next five years. And, it will support the expansion of the Pan Africa E-Network and institutions of skilling, training and learning across Africa," the PM said.
-Sumana