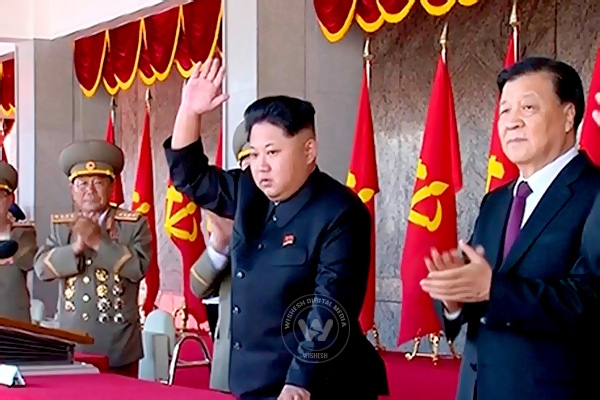 Isolated North Korea had a massive military parade on Saturday to mark the 70th anniversary of its ruling Workers' Party. Leader Kim Jong Un had overseen it. He said that the country is ready to fight any war with the US.
In Pyongyang's main Kim Il Sung Square, thousands of troops stood at attention, while Kim appeared relaxed and confident. Senior Chinese Communist Party official Liu Yunshan accompanied Kim, who was seen speaking with him all through the event. Both of them shared laugh occasionally.
Kim said in a speech, "The party's revolutionary armament means we are ready to fight any kind of war waged by the US imperialists."
Troops marching in formation followed the speech. A corps of soldiers came first who were dressed in the style of the revolutionary force, which fought Japan during World War Two. Procession of tanks followed next and other military might rolled past the square.
After the end not of 1950-53 conflict in a truce, but not a treaty, rich, democratic South Korea and impoverished North Korea technically remained at war. The UN and the US sanctions slapped the North for its rocket programs and nuclear weapons. Often North Korea threatens to destroy South Korea and even its major support, the US.
-Sumana