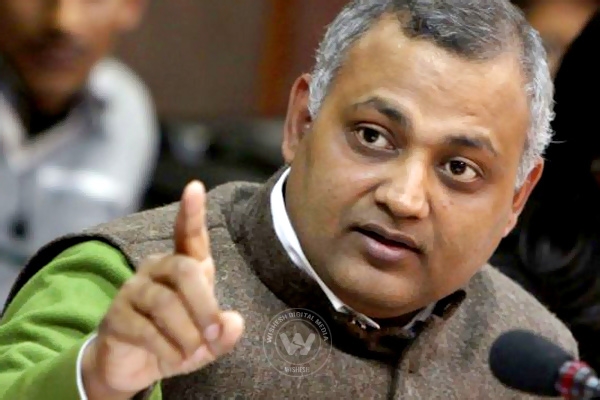 On Monday, a trial court will hear the domestic violence and attempt to murder case filed against controversial AAP MLA and former Delhi Law Minister Somnath Bharti as his wife Lipika Mitra refused to go for mediation. On connection with the case, on Sunday he was sent to Tihar Jail for a day.
Bharti was remanded by Duty Magistrate Sudhir Kumar Sirohi to judicial custody till Monday as the 41-year-old's further custody was not sought by the investigating agency. However, he was asked to produce before the concerned trial court tomorrow by the court. Due to the expiry of three-day police remand, the AAP MLA was produced before the court yesterday.
Delhi Police said in the application that Bharti should be sent to judicial custody for 14 days as there is no need for the custodial interrogation in the case.
Also read: Somnath Bharti Should Surrender To Police, Kejriwal Tweets
However, it was argued before the court by advocate Vijay Aggarwal who is appearing for Bharti. He argued that the AAP MLA should be sent only for a day for judicial custody.
Aggarwal said, "His matter is listed before the Supreme Court tomorrow for the purpose of mediation between him (Bharti) and his wife... The court should please send him to one-day judicial custody with a direction to the police to produce him before the Supreme Court tomorrow."
Bharti told the court that his wife, Lipika Mitra, is called for reconciliation during which his presence is essential. He contended that, "I will be the one who will be confronted."
Meanwhile, the defence counsel requested for the police to be directed to produce Bharti before the Supreme Court. The police said, "There is no such specific direction to police from the Supreme Court to produce the accused (Bharti) before it."
After hearing submissions from, the court rejected for direction for police to produce Bharti before the SC. Bharti alleged during the hearing that he was harassed mentally by police in their custody.
-Sumana