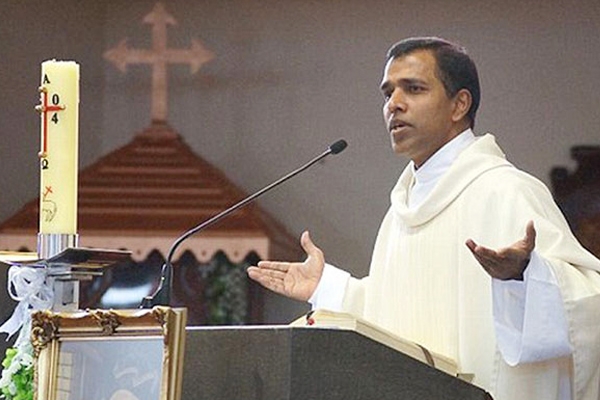 An Indian-origin Catholic priest in Melbourne was stabbed in the neck at a church in what seems to be an apparent racist attack. The suspect called him unqualified to say mass as he was an Indian.
48-year-old Tomy Kalathoor Mathew, a native of Anakkampoyil in Kozhikode district, Kerala, was stabbed at around 11 a.m. Australian time at St. Matthew's Church in Fawkner. The attack took place when, Mathew was about to begin the Italian mass.
According to local media reports, it is believed that the offender told the priest that because Mathew was an Indian, he must be a Hindu or Muslim and therefore he was not qualified to say mass.
Melina, one of the parishioners said that "There was some shouting and a lot of movement at the back of the church and then I saw Father Tommy coming to approach me. He waved me over and asked me if I could look at his neck because he said 'I've just been stabbed'."
Mathew was immediately taken to Northern Hospital and treated for a wound to his neck.
Police on Sunday night arrested a 72-year-old Fawkner man, believed to be of Italian-origin. And he was charged with intentionally and recklessly causing injury.
He was bailed to appear in Broad meadows Magistrates' Court on June 13.
Rhiannon Norton a Detective Seniors Constable said that at this stage, he believes that the incident was isolated. There is nothing to suggest he is a danger to anyone else.
"People should never be treated like this. This fellow is doing wonderful work for his parishioners and this is really blight on the great work that many, many Catholic priests are doing," Shane Healy a spokesperson for Catholic Archdiocese of Melbourne said.
Thamarassery diocese authorities said that Mathew will continue his role as priest at the church. He has been parish priest of the church since 2014.
Mathew is from a Kalathoor family of Karuimbu in Anakkampoyil. He had served as a vicar at churches in Adakkakundu, Vettilappara, Kallurutti and Chundathumpoyil.
NRI writes Exquisite poem dedicated to his parents
AMandeep