Meet 60-Yr-Old Traveler Who Completed Road Trip from Delhi to London Covering 33 Countries in 150 Days
March 15, 2019 14:11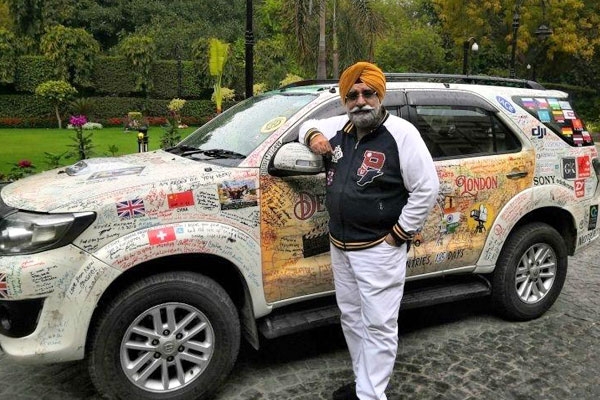 (Image source from: Indiatimes.com)
The 60-year-old Delhi resident Amarjeet Singh has done something that people half his age will still be keeping as their wildest dream. The retired businessman has just completed a 33,000 km road trip from Delhi to London covering 33 countries in 150 days.
Singh, who used to run a garments exporting business in Delhi retired from his family business and began his journey on 7th July 2018 from New Delhi on his 2013 model old Toyota Fortuner SUV and travelled 36,800 km across 30 countries, more than 150 cities in 131 days‬ and completed his trip in London on 16th December 2018.
"I started from India to Nepal, China, Kyrgyzstan, Uzbekistan, Kazakhstan, Russia, Poland, Liechtenstein, Austria, Estonia, Lithuania, Latvia, Sweden, Norway, Germany, Switzerland, Belgium, Czech Republic, Hungary, Slovenia, Slovakia, Italy, Spain, Portugal, Luxembourg, Monaco, France, Netherlands, Denmark and finally reached London," Singh explained.
"It was in 1979 that I met a German couple who were backpacking in India. I was just 20 years old at that time. After hearing the story of how they traveled, even I wanted to travel the world. I and my friend wanted to go to Germany on a bike. But when I presented my idea to my father, it was immediately shot down. But my desire to travel the world never went away. After I retired from the family business and handed it over to my son, I had nothing constructive to do. So I thought, why not now?" Singh said.
Since then, it took Singh almost three months for getting the necessary permissions and visas before setting off for the journey of life he dreamt of for 40 years to achieve.
"Everyone in the family supported and encouraged me when I said I want to take a road trip to London. My wife was really happy, she said, this is something that you had in your mind for 40 years. You should do it. Even my son said, Dad, you don't have to worry about anything. You should pursue your dream," he said.
Singh, who said he had visited most of the countries covered in his road trip for business or as a tourist, however, admitted that there were certain difficulties along the journey.
"I am 60 years old and have most of the health issues around that age like BP and Diabetes. One of the first challenges that we had to face was the non-availability of European-style toilets. Starting from Nepal till almost Russia we had to face this. The next major challenge was regarding food. I am a vegetarian and finding food was a challenge, especially in the interior of China," he said.
Singh, who also met a number of celebrities including Hollywood legend Arnold Schwarzenegger during his trip said it was a great learning experience, to meet new people from all walks of life.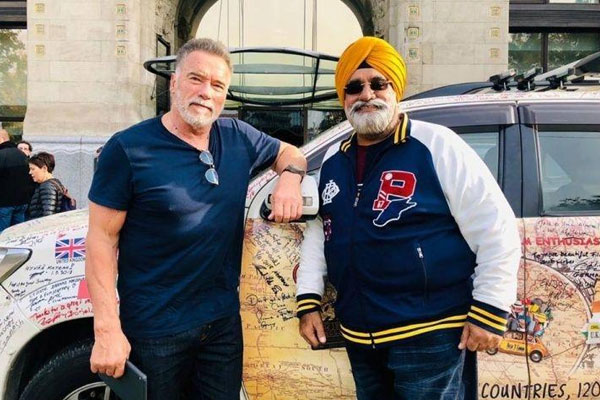 (Image source from: Indiatimes.com)
"The biggest takeaway for me from my travel is getting to know more people and learn about their life. Contrary to what people think, from my experience, I can say that the world is full of good people, people who would go out of their way to help you, even if they don't understand a word you are saying. I have had people inviting me to their homes, where we stayed for days and enjoy their hospitality and love. One of the most memorable experiences I had was in Poland when a group of people whom we were staying with came to know that it was my wedding anniversary, they arranged a small celebration," Singh recalled.
After reaching London, Singh said it felt surreal.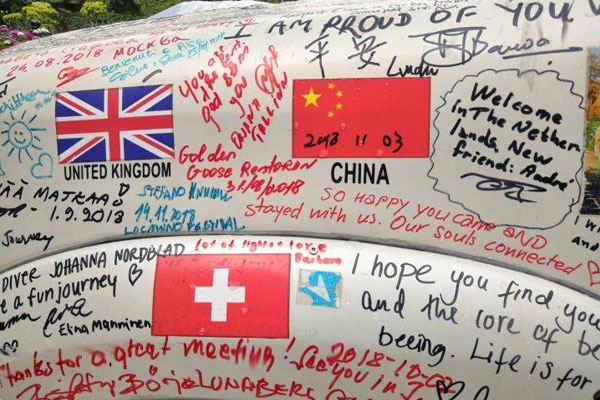 (Image source from: Indiatimes.com)
"I have been to London many times in the past on business trip. However, this one was special. But after reaching London, we couldn't somehow believe that we have come to the end of our journey. It still felt unbelievable," he said.
Singh has set his sight next on to travel all the seven countries on his SUV and further said he also wants to send out a message, especially to the youngsters, to follow their passion, no matter how late they feel it is now to pursue the dream.
By Sowmya Sangam