Mahindra Attains His Promise by Making Workplace for 'Zakhmi Jooton Ka Hospital' Cobbler
August 03, 2018 12:30
Anand Mahindra, the chairman of Mahindra Group, proven that he is not solely an accomplished and booming business tycoon but likewise a kind-hearted man who was impressed by the marketing skills of a cobbler and offered him aid in any manner he could.

Mahindra, a philanthropist is seen quite active on social media, especially on the Twitter, where he keeps on sharing his thoughts on a regular basis.

A picture of a cobbler named Dr. Narsi Ram from Haryana went viral on social media for his unique board which read, " and all the description regarding his job which was very catchy.

Later, Anand Mahindra shared a pic on Twitter with the caption, "This man should be teaching marketing at the Indian Institute of Management…"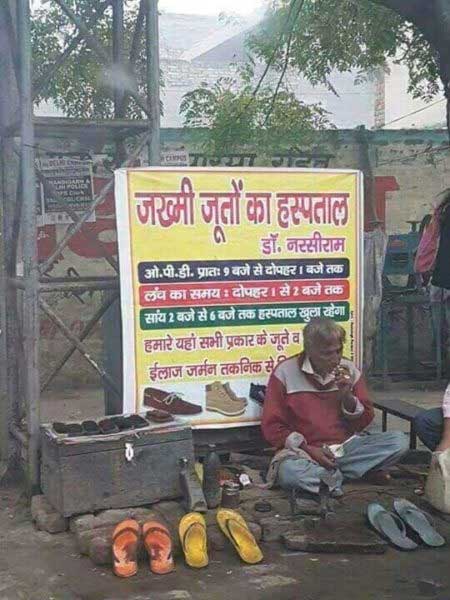 He urged people to find the cobbler and he would love to help him if he is still working.

Sometime later, Anand Mahindra came up with an update and informed Twitterati that his team has finally found the talented cobbler. He's so simple and humble that instead of money, he has asked for a better workplace.
Recall my tweet about Narseeji,the cobbler?Our team in Harayana met him&asked how we could help.A simple&humble man.Instead of asking for money,he said he needed a good workspace. I asked our Design Studio team from Mumbai to design a kiosk that was functional&yet aesthetic.(1/2) pic.twitter.com/Oefr69yAy1

— anand mahindra (@anandmahindra) April 28, 2018
They flew down to meet him&produced these ideas. We would be delighted to get your inputs on the analysis & approaches & which you prefer. We want to design something that enhances the pavement aesthetic & hopefully create a template for roadside vendors..(2/2) pic.twitter.com/bNRB9bkJOi

— anand mahindra (@anandmahindra) April 28, 2018

And now the businessman has fulfilled his commitment as an astonishing kiosk or workplace has been established for the cobbler and will reach him before long.
Remember the cobbler Narsi Ram with the innovative banner 'Zakhmi Jooton Ka Hospital?' Our team had contacted him & conveyed my interest to invest in him.He said he wanted a good kiosk. This is what our Design studio in Mumbai came up with:Great work guys! Will be delivered soon pic.twitter.com/wDgKDPoeHr

— anand mahindra (@anandmahindra) August 1, 2018

By Sowmya Sangam