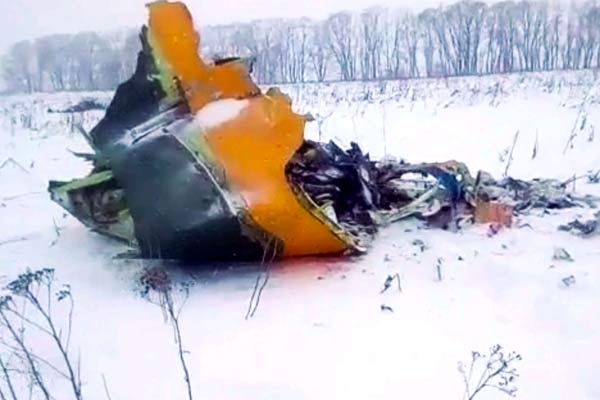 (Image source from: www.latimes.com)
A Russian Antonov An-148 plane operated by the domestic Saratov Airlines, Crashed in the Ramensky District on the Outskirts of Moscow killing all 72 on board. The plane was flying to Orsk, a city in the Urals from capital's Domodedovo airport and crashed within minutes of taking off. This is one the worst Aviation disaster in Russian History.
"Sixty-five passengers and six crew members were on board, and all of them died," Russia's office of transport investigations said in a statement. 
The witnesses saw a burning plane falling from the sky. One woman who lived nearby reportedly said: "I felt a shock wave… the windows shook."
President Vladimir Putin offered "his profound condolences to those who lost their relatives in the crash"
The crash site was covered in heavy snow and difficult to access. Emergency workers had to park their vehicles and access by foot. The cause of disaster is yet not know, but weather seems to be the most likely cause. The Country received record snowfall in the past few weeks.
This Russian aircraft was 7 years old and bought by Saratov Airlines from another Russian airline a year ago. And it disappeared from Radars 4 minutes after its take off.
The onboard voice recorder for cockpit conversations was found Monday in "satisfactory condition," an emergency representative at the crash site. While no emergency call was made from aircraft, which was flown by an experienced pilot who had 5000 hours of flight time.
Flightradar24 stated the aircraft descended at a rate of 1000m per minute or 3300 ft per minute. A criminal inquiry has been launched for "violation of the rules for the operation of air transport, which resulted in the death of two or more people"
"The United States is deeply saddened by the tragic deaths of those on board Saratov Airlines Flight 703.  We send our condolences to the families of those who lost their lives and to the people of Russia," White House Press Secretary Sarah Sanders said.
"The scatter of fragments of the aircraft and bodies of dead passengers occupies a large territory; the radius is not less than 1 kilometer (0.6 miles)," said Svetlana Petrenko, spokeswoman the Investigative Committee of Russia.
A close relative of the airline's general director was "in the cockpit during operations," said ch-aviation, which maintains aviation industry data.
By Minu Manisha