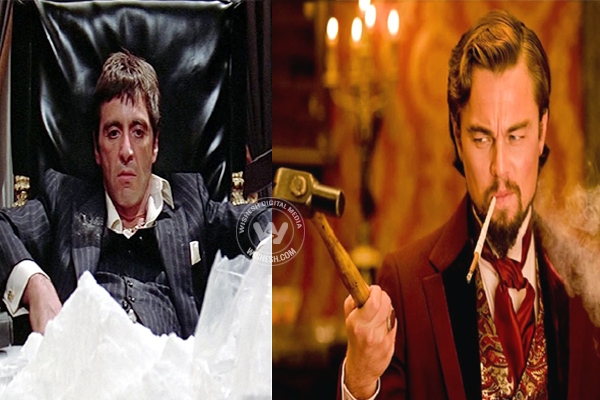 (Image source from: Say Hello to my little friend… AGAIN!!! - Scarface to Remade 2016})
Any Hollywood movie lover can't deny how much of influence SCARFACE had in movie making. Numerous directors across the world have taken references from the movie and the Bollywood was never behind in doing so with the likes of Agneepath or Bombay Velvet. Various shots or scenes of these movies show a clear comparison with Scarface.
The 1983 flick had Al Pacino starring as Tony Montana, a Cuban with a thick accent who is illegally migrated to the US to make it big. The movie was one of the trend setters in gangster flicks with almost every dialog starting or ending with the "F" word, not to forget the wide range of guns starting from Beretta's, Colt Python to MAC-10, M16A1's. Brian De Palma has become a revelation from the cult classic with some serious drug abuse, insane killing, blood bath and some intense performances he could get out of Pacino and Steven Bauer.
With such a cult following for the film, we don't know yet if this step of De Palma's is a mistake or another soon to be made classic but his eccentricity has always paid off.
Yet another surprise in this film is the lead role is played by none other than LEONARDO DiCAPRIO. He has been brilliant in choosing films which gets the versatility of his acting out with every release. Still wonder like many of his fans as to WHY he hasn't won an Oscar for any of his powerful portrayals. We hope to see him holding the Academy Award pretty soon. It would be interesting to see how he gets in to character of the Cuban gangster and how he utters those famous words from the movie "Say Hello to my little friend…"
Some excerpts from what Brian De Palma had to say about the remake
– You know when you got a film as successful and as influential as Scarface, there's this unspoken rule in Hollywood that you've got to make a remake and relaunch the story for a new generation. I am not ashamed of this, it's what we do in Hollywood and it's a great opportunity to create a new exciting version. This project has been on the drawing board for almost 15 years and I was just about to give up on it until 2013 when I saw The Wolf of Wallstreet in the cinemas and saw Leonardo DiCaprios energy and fire, I knew I wanted him to be Tony Montana. Two years later, we are well into production and are expecting a 2016 release. Working with DiCaprio is a blessing and he is really nailing his role – must be the Italian blood!"
The film will have the same plot and storyline of the original, but the scenes that will be used to tell the story however, will be mostly new and completely rewritten. De Palma elaborates:
– As much as some of my guys just want to do Scarface scene by scene with the same script out of laziness, there is no way I'm venturing out on this journey without really refreshing the film and its story. For example, this remake is not set in the 1980's but in 2016 and obviously there are going to be differences because of the era. I think both fans of Scarface and those who are new to the story will love what we are doing here."
- Bharath