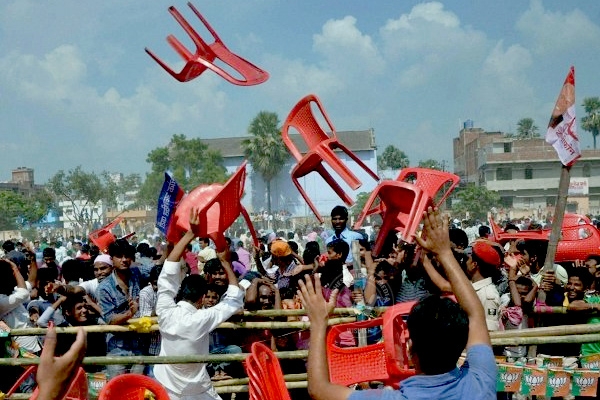 (Image source from: })
A crowd waiting to hear actor Ajay Devgn at a poll meeting venue in Biharsharief, Nalanda district, Bihar, got restless and clashed with the police. The actor was supposed to be there at the meeting ground by 10 a.m. The crowd got restless when there was no sign of Devgn even till 1 p.m.
The star campaigner was to campaign for Sunil Kumar, the BJP candidate who recently joined the party after quitting JD(U). Restive crowd started pelting chairs and stones at policemen. This eventually made police resort to a lathicharge.
According to police, nearly 12 people were injured. They include even police men.
District superintendent of police Vivekanand said, "A big crowd had gathered at the ground which eventually became unmanageable when the actor was delayed."
At 1 pm. Ajay Devgn's copter hover all through the meeting ground and the actor waved from the air to the crowd. However, he did not land. Earlier at Mr. Devgn's poll meetings, unruly scenes happened in Khagaria and Lakhisarai.
Nalanda district headquarters, Biharsharif is the native place of Chief Minister Nitish Kumar.
Also read: PM Urges People To Vote In Big Numbers, Bihar
-Sumana