PK Hindi Movie Review
December 17,2014 10:35 AM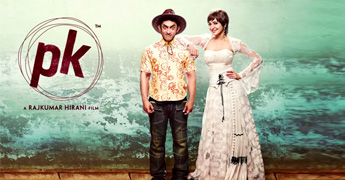 Film :

PK

Producer :

Rajkumar Hirani, Vidhu Vinod Chopra, Siddharth Roy Kapur

Director :

Rajkumar Hirani

Star Cast :

Aamir Khan, Anushka Sharma, Sushant Singh Rajput ..

Music Director :

Ajay Atul, Shantanu Moitra





3.5
Aamir Khan PK Movie Review and Rating
The most awaited PK movie is on screens now. Alien character by Aamir added a jewel to him. Laughs, emotions and happy moments should be seen on screen.

Other Ratings
Average Movie Rating





3.5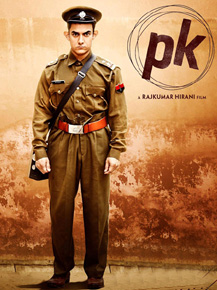 Story
The Story Revolves around a stranger guy in the city, PK(Aamir) actually played an alien role. Always fond of asking questions of variety and his innocence makes all funny and some ignore him because of his silly conversations. To avoid slaps PK placed a Sri Krishna tattoo on his chic. PK speaks in Bojpuri Language. Jagat "Jaggu" (Anushka Sharma) a journalist from Belgium, more energetic girl and she found PK is different from others and moved closely with him. Jaggu try to help PK as he faces problems frequently. Humor, Comedy and emotions you must watch on screen only.
Analysis :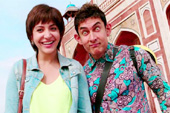 Raj Kumar Hirani again proved himself as a successful director in experiments. Each and every part of movie fixed perfectly. Second half is somewhat boring; it could be narrated some more effectively. Anushka is more energetic in this movie. Her role is really asset for PK character and movie. Roles played by Boman Irani, Sushanth Singh and Sunjay dutt really admirable. Laughter Laughter emotional happy movie is PK.
Performance :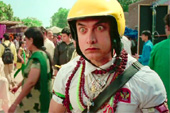 All crew of PK movie on Screen performed like in real way. Aamir and Anushka are ultimate of the Movie. We won't keep our mouth shut if Aamir on screen smiles laughs excitement only happens in the first half. Sanjay Dutt, Boman Irani, and Sushanth Singh catalyzed the movie positively.
Final Word:
PK is surely a Box-Office winner. Movie shows Aamir stuff. Narrating could be polished some more.
{slideshow}images/reviewslideshows/PK{/slideshow}
(AW: Kannamsai)