Dhoom 3 Hindi Movie Review
December 20,2013 08:00 AM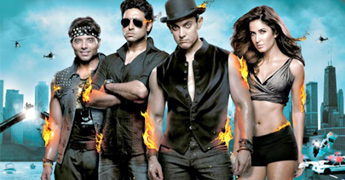 Film :

Dhoom 3

Producer :

Aditya Chopra

Director :

Vijay Krishna Acharya

Star Cast :

Aamir Khan, Abhishek Bachchan, Uday Chopra, Katrina Kaif, Jackie Shroff

Music Director :

Pritam





3.5
'Dhoom:3 is a visual treat and has thrilling action sequences

Other Ratings
Average Movie Rating





3.5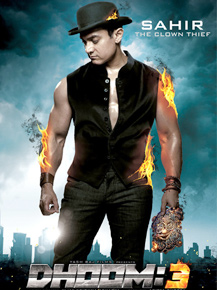 Story
The story begins with Sahir(Aamir Khan) learning the tricks of the trade, in a circus company, from his father Iqbal (Jackie Shroff), who is a magician. Iqbal is the owner of the 'The Great Indian Circus' and owes a huge debt to the Western Chicago Bank, in the 1990s. The circus company is the only dream of Iqbal and when his dream fails he commits suicide. Sahir holds the bank responsible for his father's death and is determined to get it closed by repeated robberies. He escapes without leaving any clue. Only clue left is written in hindi. Here enters ACP Jai Dixit (Abhishek Bachchan) along with his assistant Ali (Uday Chopra). The main task of the duo is to catch the master robber red handed. Aamir has the gorgeous and beautiful Aaliya (Katrina Kaif) as his co-star.
ACP Dixit is aware that Sahir is the robber, but he can't arrest the master robber for lack of proof. So they set-up a trap for Sahir and the action begins with bike chases. The question is, will Sahir be caught red handed (like John Abraham in Dhoom) or would be allowed a chance to begin life afresh (like Hrithik Roshan in Dhoom 2). What would happen at the end? Find out for yourself at the theatres.
Analysis :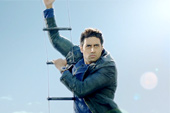 The film has been well-scripted and delivers on speed and action that the 'Dhoom' franchise is known for. The bike stunts and scenes at the circus have been done well. The film has been woven seamlessly, especially the introduction and the climax. The makers of the movie seem to be inspired by hollywood but stunts are full 'desi' bollywood style. Bollywood perfectionist Aamir Khan delivers well. The songs have been choreographed well. Katrina, in the role of Aamir's love-interest, ups the glamour of the movie. she dazzles in every screen but has nothing much to do. The film has everything that you expect from a Dhoom sequence – speed, action, thrill, romance and some comic relief.
Performance :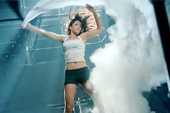 Aamir Khan the perfectionist of bollywood delivers well. His body language and expressions are something to watch for. The 'Dhoom Tap' dance is well choreographed by Aamir. Even 'Malang, choreographed on Katrina and Aamir is good to watch. Abhishek and Uday did a good job in the chase sequences. Katrina Kaif and Uday Chopra don't have much of a role in the film. Katrina looks splendid in every frame but has little else to do. Uday is a welcome comic relief.
Final Word:
Watch the film for Aamir Khan, his perfect body language and Katrina Kaif's glamour quotient.
{slideshow}images/reviewslideshows/Dhoom3{/slideshow}
(AW: Pratima Tigga)