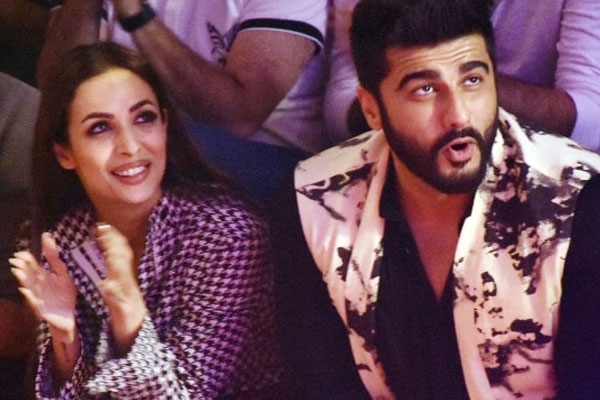 (Image source from: indiatoday.in)
Love is flourishing in every corner of Bollywood.
Apart from the magnificent approaching weddings of Deepika Padukone-Ranveer Singh and Priyanka Chopra-Nick Jonas, other romances are thriving in B-Town, one of them being Arjun Kapoor and Malaika Arora.
There has been much buzz about the two for months now and it reached a feverish pitch when the two were snapped holding hands at the Milan airport. They had gone to celebrate Malaika's 45th birthday.
Just after that, there were reports of Arjun and Malaika tying the knot in 2019. However, a friend refuted the rumors and said, "Arjun and Malaika have started spending quality time together. They are extremely fond of each other and are exploring their beautiful relationship. Let's not jump the gun here. We should just let them be. Marriage is definitely not on the cards anytime soon for them."
Recently, the two indulged in some social media PDA (Public Display of Affection) and fans were excited. Arjun shared a fan-made picture of himself and Malaika replied with a fire emoticon.
The couple fueled rumors after their recent appearance on the reality show India's Got Talent, where Arjun was to promote his just-released film Namaste England. Malaika and Arjun held hands and walked to the stage on the show.
In August this year, Arjun Kapoor attended a show at the Lakme Fashion Week with Malaika and his sisters Janhvi and Khushi Kapoor.
Filmmaker Karan Johar too posted a video asking Malaika who she spent her birthday with. Malaika replied to Karan with a blush, "Let it be a burning question!"
Malaika and Arjun have been linked together for several years now. Her closeness to Arjun was also speculated as being the reason behind Malaika's separation from Arbaaz Khan.
However, Arora had said time and again that she and Arjun were just 'close friends'.
Malaika and Arbaaz divorced in 2017, after 18 years of marriage. Arbaaz is now dating Georgia Andriani and rumors say that a wedding is on the cards sometime soon.
Malaika, on the other hand, had been tight-lipped about her relationship all these days. However, her recent posts on Instagram suggest that she has 'found love in a hopeless place'.
-Sowmya